This show will now take place at Lincoln Hall (2424 North Lincoln Avenue)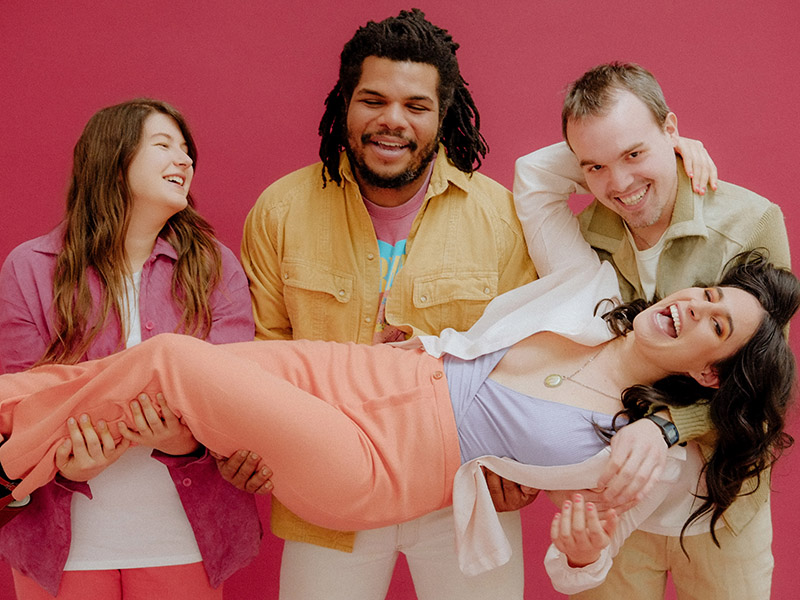 Mannequin Pussy
Destroy Boys

,
Ellis (Cancelled)

,
MANNEQUIN PUSSY
Colins Rey Regisford (bass, samples, vocals) – Kaleen Reading (drums, percussion)
Marisa Dabice (guitar, vocals) – Athanasios Paul (guitar, keys)
The third full-length from Mannequin Pussy, Patience is an album fascinated with the physical experience of the body, its songs tracking the movements of mouths and hands and racing hearts, skin and spit and teeth and blood. Deeply attuned to the power of their own physicality, the Philadelphia-based band channels complex emotion in blistering riffs, thrashing rhythms, vocals that feel as immediate and untamed as a gut reaction. But throughout Patience, the Philadelphia-based band contrasts that raw vitality with intricate melodies and finely detailed arrangements, building a strange and potent tension that makes the album all the more cathartic.
The follow-up to Romantic—a 2016 release praised by Pitchfork for "combin[ing] punk, shoegaze, death metal, and more, with the ferocious push-pull energy of a mosh pit"—Patience came to life at Studio 4 in Conshohocken, Pennsylvania. In creating the album, Mannequin Pussy worked with producer/engineer Will Yip (Quicksand, The Menzingers), shaping an explosive sound that never overshadows the subtlety of their songwriting. "In the past there's been a chaotic feeling to the recording process, but working with Will put us in a different headspace," says Dabice. "It helped us show our progression over the past few years and make a very crisp-sounding record, without losing the dirtiness of what Mannequin Pussy really is."
Opening with its gloriously frenetic title track, Patience matches Mannequin Pussy's wild volatility with a narrative voice that's often painfully vulnerable. On "Drunk II," for instance, Dabice's vocals shift from fragile to furious, the track's stormy guitar work colliding with lyrics capturing the grief of post-breakup inertia. "I wrote that song one night when I was very heartbroken, after I'd been out with friends trying to pretend like I wasn't feeling so hopeless," says Dabice. "I went home and just started playing guitar and crying, and stayed up working on that song till about four in the morning."
On the delicately sprawling "High Horse," Patience takes on a more restrained tone but still maintains a devastating intensity, with Mannequin Pussy presenting an intimate portrait of an abusive relationship ("Pushing me up against the kitchen sink/I feel your breath on me/I can taste it in my teeth"). Meanwhile, "Who You Are" shifts into a brightly tender mood, assuming a classic-love-song sweetness in its message of self-acceptance. "I turned 30 as we were working on the record, and it changed my whole perspective on my life and relationships and everything," says Dabice. "'Who You Are' came from thinking about what I'd want to say to myself when I was still in my 20s and wasting so much time not believing in myself."
Elsewhere on Patience, Mannequin Pussy transmit an unstoppable fury: the 39-second "Clams" delivers as a brutal blast of vitriol against those who've tried to hold them back, while "F.U.C.A.W." unfolds in unhinged riffs and relentlessly pounding beats. And on "In Love Again," the album closes out with a magnificently epic anthem driven by dreamy guitar tones, lilting piano melodies, and a particularly elegant performance from Reading ("I'm really proud of the nuanced drum beat and the percussion odyssey at the end," she notes. "And yes, there are bongos on the track"). The most undeniably hopeful moment on Patience, "In Love Again" telegraphs utter joy and awe in its heart-on-sleeve lyrics. "I always want our records to end in a place of optimism," says Dabice. "The songs take you on a journey through all these very toxic emotions and traumatic experiences, but what I'm trying to articulate is that something good can come from getting through all that."
The push toward transformation has long propelled the songwriting of Mannequin Pussy, who formed as a duo when childhood friends Dabice and Paul reconnected after years apart. At the time, Dabice had recently returned to the East Coast from Colorado in order to help take care of her mother, who'd just suffered a stroke. "It was one of the most trying times of my life, and at some point my mom suggested that I try going to therapy," Dabice recalls. "But instead I was like, 'I think I'm just gonna learn to play guitar.' I didn't want to talk to anyone; I just wanted to lose myself in the creative process." Once she and Paul played music together, they discovered a chemistry she now describes as magical. "We created so much in such a short period of time," Dabice says. "We never even thought of making records or anything—it was just this pure emotional outlet, just us screaming onstage with our guitars."
As they continued collaborating, Dabice and Paul later added Reading and Regisford to the lineup, making their debut with GP in 2014 and releasing Romantic in fall 2016. Recently signed to Epitaph, Mannequin Pussy found themselves newly revitalized in the writing and recording of Patience, their creative connection stronger than ever. "I'm so proud of how hard we've worked to get to this point," says Dabice. "This album sounds exactly how I've always wanted us to sound—I've never listened to something we've made and felt so inspired by it."
As Dabice explains, the band's journey toward the making of Patience partly inspired the album's title. "I think you have to be patient that you'll find the sound that's in your head," she says. "It's okay to take your time if you can't figure it out right away—you've got to just trust that you'll get there eventually." And within that process, Mannequin Pussy have continually found the emotional release that ultimately makes their music so powerful. "Feeling isolated in your most toxic experiences can slowly destroy you from the inside, but going through the motion of creating something can make you feel at peace," Dabice says. "And the real beauty is that, by sharing your experience, it helps other people to feel less alone as well. That's what we've always searched for with our music, and I don't think that will ever change for us."