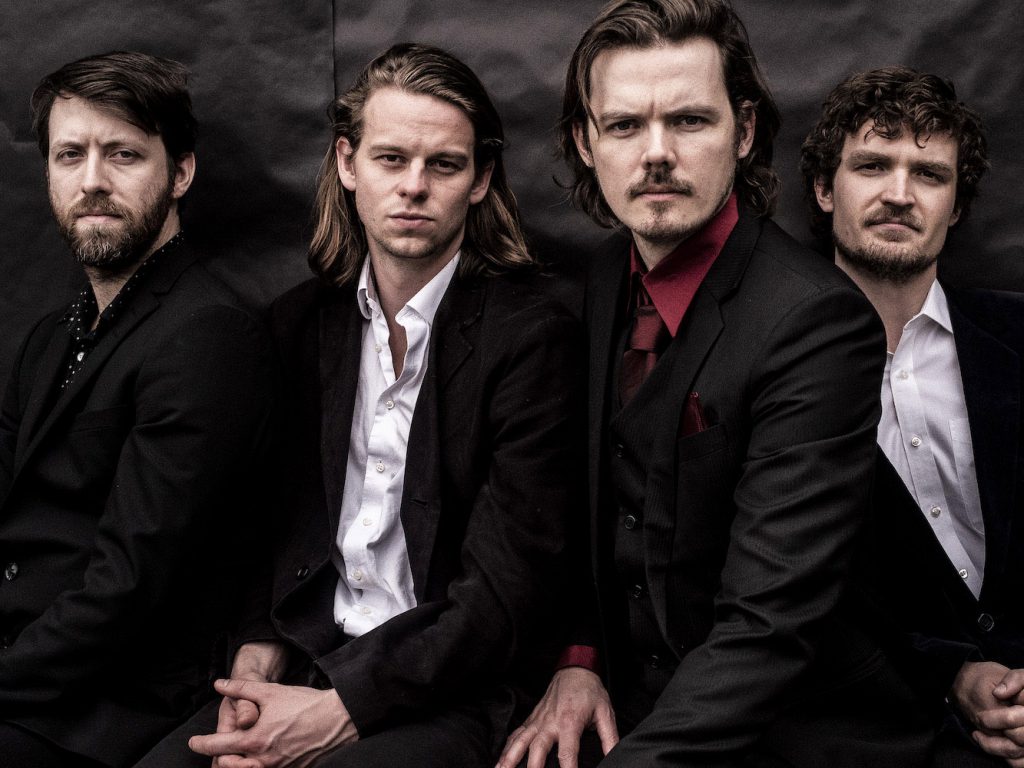 A Blemish in the Green Light Tour
On Sale Friday [9/20] at 10am
Half Moon Run have partnered with PLUS1 so that $1 from every ticket sold will go to the treatment of severe acute malnutrition through effective, locally produced, ready-to-use therapeutic foods. www.plus1.org
"If we had one real stroke of luck with this group, it was meeting each other," says Half Moon Run's Conner Molander. Now going on ten years together, the Montreal indie band is deep in the final push of their third album, and the temptation to look forward is as risky as the lure of looking back. Molander seems sanguine. He pauses, then adds, "But if you have a bit of luck it's your responsibility to put in the work. It would be impossible to live with ourselves if we weren't devoted to it, to working on it."
Half Moon Run's had their share of lightning-strike luck to live up to. The band came together in 2009 in Montreal's Mile End, when Molander and Dylan Phillips—students and recent transplants from Vancouver Island—connected with Devon Portielje, who was fresh out of Ottawa. (In mid- 2012 they tapped a third Comox-born musician, Isaac Symonds, to intensify their live show.) From the outset, the group's lingua franca was music: practicing, composing, jamming. All four members are multi-instrumentalists and all four are vocalists: Portielje sings lead, but he also plays guitar, piano, and percussion; Molander sings and plays guitar, keyboard, piano, pedal steel, bass, and harmonica; Phillips sings and plays drums, piano and keyboard; and Symonds sings and plays drums, mandolin, synth, and bass.
Whether they're billed as dreamy alt-pop, bucolic alt-folk, or psychedelic indie rock, the word critics and fans alike come back to when describing the band's music is "complex" (The Guardian, Exclaim, et al.) With classical training and omnivorous influences, they've built their name on cerebral, acrobatic arrangements and harmonies that lilt prettily till they turn feral. Jamming out their earliest songs in their dingy Mile End practice space—the band describes jamming as, among other things, a kind of a subcortical collaborative experiment in interpersonal trust and tension—quickly compelled them to bigger risks. Variously, they dropped out of school, took on debt, and abandoned efforts towards safer careers.
"It must've been by sheer force of desperation that something came across," Molander says. "Because we hardly knew what we were doing. I hardly knew how to string a guitar in those days." The result earned them a contract with Montreal indie label Indica Records, who put out their album Dark Eyes in Australia and Canada in March, 2012.
Less than a year later, Half Moon Run was playing their first show in London, England. BBC Radio 1 had been buzzing about them, and Ben Lovett, of Mumford and Sons, was in attendance. Over whiskeys backstage he asked the band to fill the opening slot on Mumford's European spring arena tour. He also signed them to his label, Communion, calling them "potentially one of the most important bands debuting an album this year."
Dark Eyes was re-recorded, re-mastered and re-released worldwide in 2013. Rolling Stone noted Half Moon Run as "a band to watch," and NME called the album "quietly stunning." Dark Eyes placed two A-list singles on BBC Radio 1, and went platinum in Canada.
Two years of furious worldwide touring followed—opening for not just Mumford and Sons, but other international acts like City and Colour, and Of Monsters and Men, and making waves at major festivals all over North America and Europe. By the time the band came home to Montreal, they were stunned and saturated. "It felt a little bit like being underwater," says Phillips. They received an International Achievement Award from Quebec's SOCAN, but despite the momentum of their success, writing a second album didn't come easily. The personal sacrifices they'd made for the success of the project—sacrifices that might look tiny from the distance of a bunk in a tour bus overseas—were suddenly very large and very present, back at their kitchen tables with estranged friends and mystified roommates. Home wasn't home. Jamming wasn't jamming. They packed up their tour van and let the sun pull them west to California.
Sun Leads Me On, produced by Jim Abbiss (Adele, Arctic Monkeys) dropped in late 2015. Hailed as a departure from the moody melancholia of Dark Eyes, AllMusic praised the album's "more cosmopolitan approach," while Mojo acknowledged that "the scenery is damned fine." Lead single "Turn Your Love" became the band's first Top Ten hit at Canadian Alt-Rock Radio, made the A- list at BBC Radio 1, and was #1 at Triple-J in Australia. The album turned Gold in Canada in 2017.
After blowing out four back-to-back hometown shows and selling around 9,000 tickets in under 45 minutes, Half Moon Run was back to worldwide touring for another two years. They hit fourteen European festivals in fourteen weeks and sold out rooms in Canada, America, Australia, and Europe. They also earned a 2016 Juno nod for Breakthrough Group of the Year.
Now, with their third LP anticipated this year, everything has changed, but also—not that much. Music continues to be the band's first language with each other. All four members have spent the time off since Sun Leads Me On studying: that is, putting in the work that earns the luck. They've been practicing their instruments, reading, listening, focusing on their technical skills. "Basically just re-examining everything we know about how to be a band. It's a little bit like starting over," says Molander. "Of course, jamming has changed. But there's something that's really the same about it. It reminds me of a relationship, people really change and relationships that last are relationships that evolve. The records are like checkpoints, more than autonomous identities of their own. Whatever we've gained as individuals is in service of the band, and of the music."