LHST Vaccination Policy
Proof of vaccination is required for entry to all shows at Lincoln Hall and Schubas in Chicago, and to all Audiotree Presents shows in Michigan.
Click here
for more information on this policy for Chicago shows, and
Click here
for Michigan shows.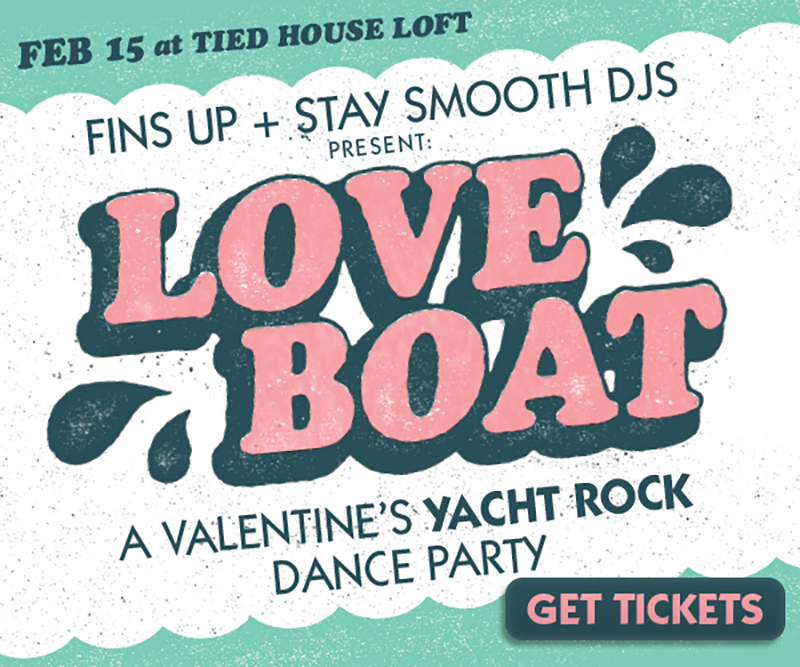 Fins Up + Stay Smooth DJs Present: Love Boat
A Valentine's Yacht Rock Dance Party
Love, exciting and new. Come aboard, we're expecting you!
The Fins Up DJs are back with another installment of our Valentine's celebration, Love Boat, this time in the Loft at Tied House! The original Chicago purveyors of '70s AM Gold, '80s FM Rock and Contemporary Smooth Gems Stay Smooth will be back on the 1s & 2s with us, so come watch us make kissy faces at each other as "Careless Whisper" plays in the background.
Checkmate Speed Dating will also be there to help you find that special someone. Doors at 7:30 so you can sign up to be matched up at 8pm with whoever you're feeling because Checkmate is all inclusive! More info is available at https://www.checkmatespeeddating.com/
Pabst Brewing and Deep Eddy Vodka are coming aboard and will be serving up tasty brews + cocktails to help set the mood.
Make sure to dress to impress because the hostess with the mostest, Captain Meredith, will be searching for two people to give our "Cutest Couple" award. So grab boo, bae, or a buddy and get your outfits on point before stepping on the boat.
Bring someone sweet and dance to the beat at Love Boat!
*****
FINS UP is a party dedicated to those smooth summer nights spent with a tropical drink in hand. A mixture of yacht rock, beach jams, 70s, 80s, soul, funk, and disco will melt all the worries of the week away and encourage you to unbutton a few buttons on that blouse and cuff those chinos. Your co-captains Adam Melberth and Ryan Lynch will guide you through vibey waters across the horizon into good times. When it all comes down to it, just remember the ingredients for a good time: Dudes, Brews, Babes, and Waves.
THIS SHOW IS AT Tied House Loft