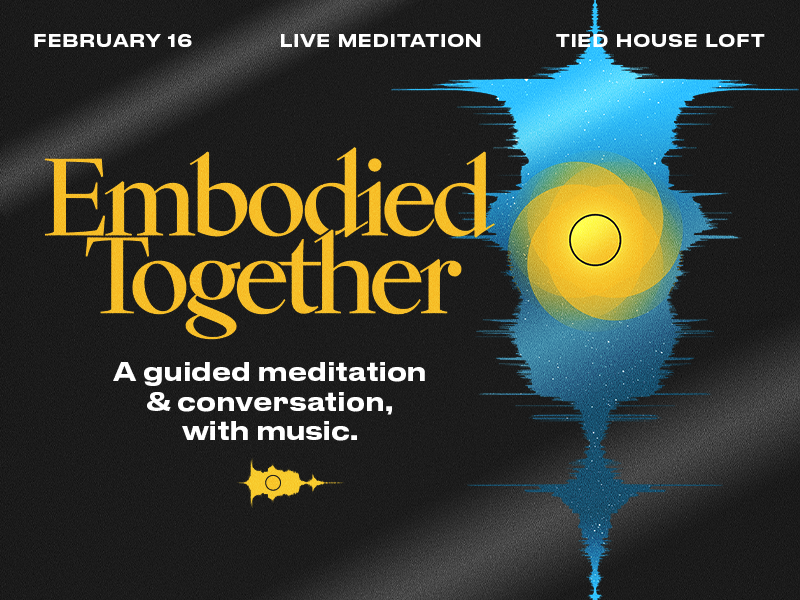 A Guided Meditation & Conversation
$15 cash or Venmo at the door
Embodied Together is a guided community meditation with live ambient music in Chicago. We help others embody more fully and find the deep field of stillness, right under their feet. Bringing awareness into the body and into stillness is powerful—it naturally helps us to heal, and to express ourselves more authentically. It is also great fun—the joy of being is amplified when we get out of our heads & into our bodies, together.
Each attendee receives a high-quality stereo recording of the meditation sent to their email, for later use.
The meditation is led by Meghan Roekle, using tools from teachers such as Kiran Trace and Bryon Katie, with ambient musical accompaniment by Austin Peters.
FAQ
• The venue is upstairs, inside Tied House. There will be someone there to greet you & point the way.
• Arrive before 10am so you can sign in, settle & get comfortable.
• Bring $15 cash or Venmo & write down your email with our greeter to receive the meditation by email and to be informed of future meditations and events.
• There are plenty of chairs & couches to sit in, but if you prefer to sit on the floor, be sure to bring your own meditation cushion & blanket, etc.
• Bring your own water, coffee, etc. You will be able to get other food & drink at the restaurant after, at a 10% discount for meditation attendees.
• The meditation itself is between 45 and 55 minutes.
• We will be doing embodiment & stillness meditation. This is not mindfulness, this something deeper and more authentic to your truest nature.
• The last 30-45 min will be for questions & conversation. You are also free to hang out after for a bit, inquire about the practice. Conversation flows naturally after our meditations, and we're always eager to hear your insights and experiences.
Social:
Bandcamp — embodiedtogether.bandcamp.com
Facebook — facebook.com/embodiedtogether
Instagram — instagram.com/embodiedtogether
Twitter — twitter.com/embodiedtogethr
YouTube — youtube.com/channel/UC0qjO0KSRImnQeZG5P4N9Dw
Keep up with us:
Meghan Roekle — meghanroekle.com
Austin Peters — austinisaacpeters.com
THIS SHOW IS AT Tied House Loft