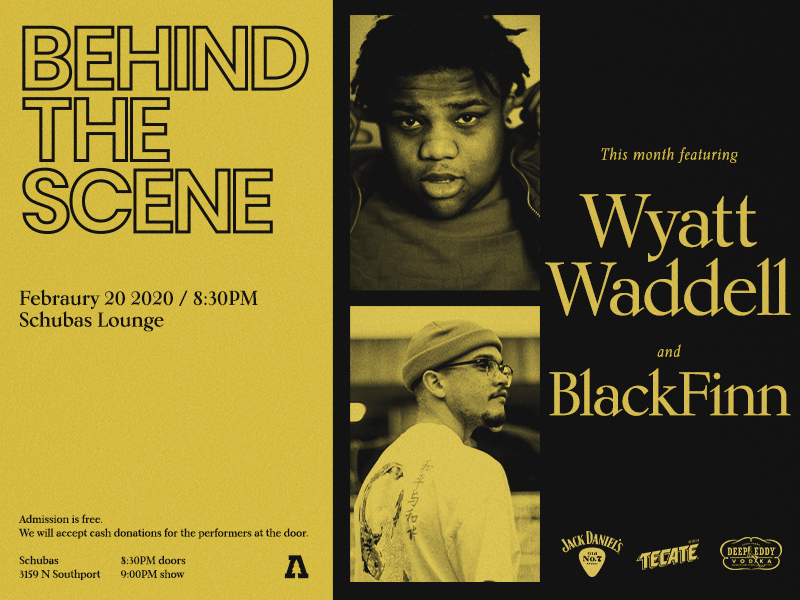 Audiotree x Schubas
Behind the Scene
featuring
This event will be held in the Upstairs Lounge
A curated series featuring local artists on the rise in Chicago
Behind The Scene is a monthly curated series focused on bringing the best in music & art to an intimate community space within one of Chicago's most iconic venues. Admission is free but we will accept cash donations for the performers at the door.
Please join us at Schubas upstairs lounge on Thursday February 20th. Show starts at 9:00pm.
Wyatt Waddell – https://spoti.fi/2RDeY1a
Wyatt Waddell has been described as Chicago's Boy Wonder for his complex melodies, exuberant presence and powerful yet versatile vocal range. Moving seamlessly between the raspy timbre of James Brown to the melodic whimsy of Paul McCartney, his musicality recalls the old greats while his inventive and playful approach is entirely new. A multi-instrumentalist known for his perfect pitch and instinctive songwriting, Wyatt's talents are on full display in his first four singles Cyber Eyes, Time (Don't Let Me Go), Untrain My Heart & Sleeper. Wyatt has been bubbling at the edges of the Chicago underground and is now set to bring his infectious mix of indie,
R&B, pop, and funk into the music world.
BlackFinn – https://spoti.fi/38JnfGi
BlackFinn is a multi-instrumentalist who is focused on creating art that serves as a form of self-expression and connects with people. His roots lie in the music of jazz, soul and R&B. The experience of studying jazz pushed him to have an open mindset when creating and collaborating with other artists which results in a unique sound that blends aspects of many genres.