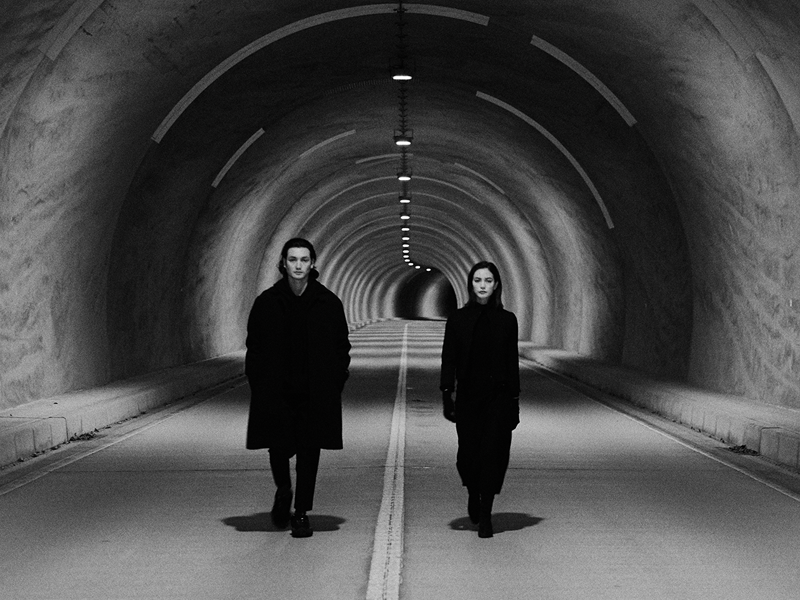 On Sale Thursday 11.18 @ 12PM
Josh and Amy Dowdle are Lastlings, the Gold Coast sibling duo who have taken their place as new leaders in the sweet spot between live and electronic. Amy contributes her double-edged sword of intricate, wistful lyrics with her own ethereal vocals at center stage while Josh complements with perfect electronic-driven synergy, injecting sweeping synth work and robust bass lines to weave together dynamic and emotional dancefloor moments.
Josh began with classical training in music, but truly found his stride outside of the classroom, teaching himself by ear on guitar and later exploring the world of production on his own. Amy, five years younger, had always harbored her own passions and curiosities about music, starting at the age of six when she began playing classical piano, later also singing in choir. By age 10, she was regularly writing songs. Naturally, Amy eventually found her way into Josh's band sessions that were held in their home garage, eager to join in on the fun. It wasn't long until the two decided to create a project together, forming Lastlings before Amy had even finished her last year of high school and just as Josh had graduated from university, studying biomedical science. The following year, Amy finished school and the choice was obvious — it was time to focus on the project full time.
The duo harbor a powerful, slow-burning energy and a deep dedication to their craft that has set them far and apart across today's musical landscape. These Lastlings traits were likely inherited from their Japanese roots, impressed upon them throughout the trips they spent balancing the duality of the high-energy, electrified city of Tokyo and the tranquility of Aomori, a small fishing village on the northern side of the main island and their grandparents' hometown. "Every time we'd visit the city, there would be something new that we hadn't yet experienced — like we were venturing into the unknown," they share. "But upon returning to the smaller towns, there is such beauty in the simplicity and tradition of Japan that deeply grounds us. This balance between simplicity and complexity had great influence on us, and the concept of the album."
Lastlings are ready to debut their first album, the aptly-titled ​First Contact​. Partially written in a remote stillness of a snow-capped house in that Japanese village and fine-tuned and finished all across Australia, the record aims to capture emotions that feel familiar, while transporting listeners to a universe far away — one that feels closer to fiction than reality. "​First Contact​ is all the moments we experience for the first time, how special they are and how important they are in shaping us as people," they explain. "It's about those beautiful moments when we feel love for the first time, when a child takes its first steps or when we travel to a new destination. It's also about the somber moments in our life where we have lost something or someone for the first time and how we grow and change. We hope the album sparks all the beautiful and important memories, feelings and emotions that you feel when you experienced something for the first time."
The album is enigmatic and broody yet soothing, with lush vocals that command with a unique power. The two leave no detail untouched across their project — infusing their musical outputs into the fantastical imagery of their music videos and album artworks, which touches across all points of their inspirations from anime tales to works of cinema magic. The record has clear recalls to their cinematic, science fiction muses: Blade Runner, Akira, Ghost in the Shell and Studio Ghibli films. Fittingly, Lastlings
have begun to share their own visual accompaniments to ​First Contact​. Lead single "No Time" arrives with an anime-style adventure, while "Take My Hand" features a haunting short film that feels like a glimpse into a full-length movie about a dystopian future.
The pair are entering into their new chapter with grand support. Championed by fellow Australian superstars RÜFÜS DU SOL, Lastlings have also been warmly welcomed to the band's own label, Rose Avenue and toured alongside the band at iconic venues like Colorado's Red Rocks and the Los Angeles State Historic Park. They are recognized and lauded by industry-defining platforms like ​Billboard​, ​NME and ​Mixmag​ and featured within the pages of cultural paragons like ​Vogue​, ​Harper's Bazaar​, ​Paper, Flaunt,​ and ​W Magazine.​
First Contact​ is a transcendent debut, and marks only the beginning for Lastlings — a forward thinking duo and ultimate combination of art, tradition and determination. It's an auspicious first glimpse into the universe, as built and told by Amy and Josh Dowdle, and a promise of what's still yet to come.
YOU MAY ALSO LIKE