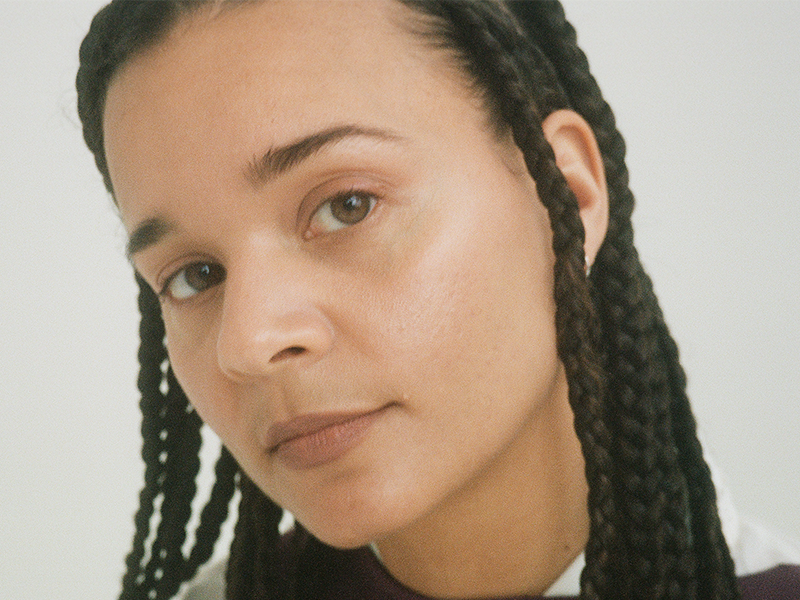 On Sale Friday 11.19 10AM
Erika de Casier is a breath of fresh air to anyone with a passion for music in all its genres, who'd bang a '90s jungle track and Mariah Carey in the same sitting. With hushed, pillow-soft vocals and production that references turn-of-the-millennium sounds, the Copenhagen songwriter-producer's sound surveys the past while looking to the future. Newly signed to 4AD, her album Sensational marks a new chapter for Erika, an expansion of her sound that pushes to new creative heights.
2019's Essentials, de Casier's first full-length project, tapped into Y2K classics via Darkchild-style harp plucks, choppy breakbeats and UKG organ stabs. Rather than sounding like a relic of pop culture past, though, it felt hyper fresh and exciting – like you could file it next to both Sade and Yaeji. That record, released via her own Independent Jeep label, was a slow burn, shared feverishly among music fans including Clairo, Shygirl and Dua Lipa. "It was very surreal and very sweet but frightening at the same time," de Casier says, "because then people had expectations of me, and I hadn't had that before." Praise for her music has been widespread: Essentials graced Best Of 2019 lists at Mixmag, FACT, Crack, Dummy and more, even making Gorilla vs Bear's best of the decade list. Type Erika's name into Twitter and you'll see people constantly discovering her work with joy.
Sensational expands the universe of Essentials – it's like a "bigger sister," she says. All of the album was co-produced by de Casier, who describes herself as an "open listener," as much influenced by Aaliyah and Janet Jackson as house, garage and techno. Eurodance stabs and rattling Amen breaks sit alongside drama-inducing timpani rolls and sugary hooks that Max Martin would be jealous of.
Where Essentials dealt more with the infatuation stages of love, Sensational has more of an attitude. It tackles relationship dramas and the toxicity of dating, although there's still a softness to the whole thing. A series of words stuck with her while making the album: 'sensual', 'sexy' and 'sensational'. It was a chance to rewrite scenarios in ways that empowered her, fantasising about what could've been.
Anti-bad boy tune 'Polite' was written about a nightmare date she'd been on where her dining partner was rude to the waiter and only spoke about himself. Thinking she should walk out of the restaurant or confront his impoliteness, instead she sat there being nice. The song lays out what de Casier wishes she'd said to him if she could replay the scene: "You gotta have some manners if you wanna roll with me". 'All You Talk About' centres around a Versace and Fendi-obsessed love interest who wants to buy her diamonds but – perhaps in a nod to J.Lo – can't buy her love.
Running through the album is a theme that cropped up during the 'Independent Woman' era – self-sufficiency and dismantling the stereotype of single women looking for love. She wrote 'Someone To Chill With' following a breakup, craving something more casual: "Don't need anybody, I got me. Just cause I'm alone don't mean I'm lonely". In a cute twist, 'Make My Day' flips the script on chat-up lines that are traditionally considered cheesy: "Do you come here often? And when you fell from the sky well; did it hurt?" To her, the idea of saying something so wonderfully cliché can be an act of reclaiming the role as seducer. Elsewhere in the lyrics are touches of millennial existence that make the whole thing relatable: doing her skincare routine, taking vitamins and keeping her room tidy (she likes to keep it very tidy).
Born in Portugal to Belgian and Cape Verdean parents and raised in Ribe, Denmark, Erika was one of the only mixed-race kids in her school. She dipped into creative pursuits around this time, drawing and painting and browsing the library for CDs to listen to on her Walkman. After leaving school in Aarhus, she downloaded music software and began producing her own material, finding that the time flew by. Adding her vocals to the production, she would whisper them out of necessity (the paper-thin walls of her flatshare), but these breathy, intimate lines would become her calling card.
In Denmark, Erika aligned herself with the Regelbau collective who are known for reshaping rave sounds, lending her vocals to tracks like DJ Central's 'Drive' and covering Sovereign's garage banger 'Truly'. With her name bubbling gently among crate-diggers and forum heads, de Casier gradually evolved into making solo music, sending sketches of her sounds to her friend Natal Zaks (aka DJ Central, or El Trick) that would form Essentials.
There's no part of the project that de Casier doesn't have creative input in, even designing the album artwork which sees light hitting her face like lip gloss while looking like the creation of a sci-fi film. She directed the video for 'No Butterflies, No Nothing', inspired by the longing glances of period dramas and soap operas like Days of Our Lives. 'Drama's video was also directed and edited by herself – it was "super DIY but I love that because it makes me connect to the song in a different way." She enjoys working on the visual side of things and "working with very little, which I think is nice. You know, I don't have the best camera, I don't have an assistant, what can we do with the few things we have? I think a lot of nice things happen when you do it that way."
There's a sense of unpretentiousness and humbleness around Erika, for which there's actually a logical explanation; a societal rule central to Nordic countries that strive for egalitarianism. Janteloven, or the Laws of Jante, dictate that you're not meant to behave ostentatiously, or boast. "It's especially hard in music to just go out there and do it," she says, "because there's so much in me that says, like, 'Relax, don't think too highly of yourself'! It gives you humbleness but it also gives you a sense that you shouldn't dream too big."
With Sensational, Erika de Casier has produced a body of work that is deeply personal, that stands up next to the pop and R&B greats she used to listen to on her Walkman. It's like being let in on a secret you won't be able to keep to yourself.
YOU MAY ALSO LIKE