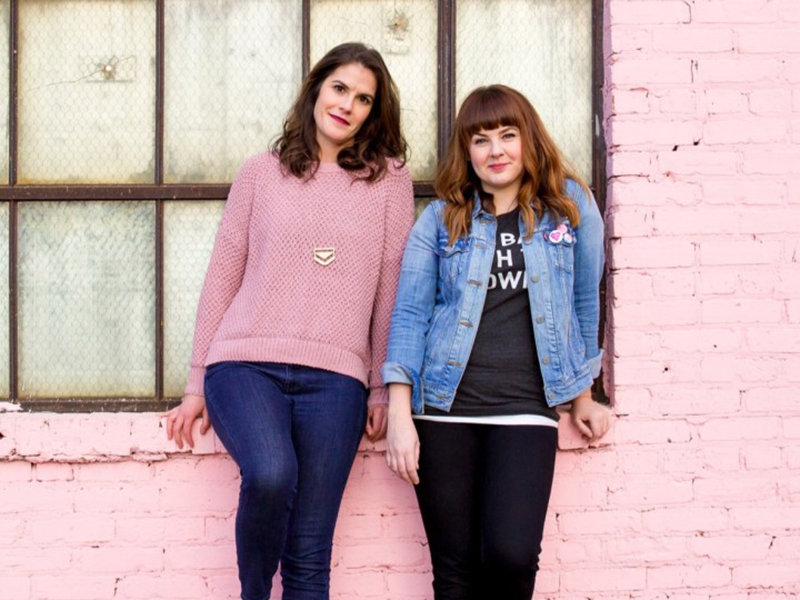 The process of cultivating our best selves and dreamiest lives is un-equally accessible for women, girls and gender-nonconforming folks everywhere. But by better understanding our unique identities, diverse lived experiences and underlying injustices, we can claim our space and make more room for others as well. That's our Unladylike mission: To make inclusive, credible media that moves.
We — co-founders Cristen and Caroline — are journalistically trained, research-addicted feminists who make digital media about all things gender. As creator and former co-hosts of Stuff Mom Never Told You, iTunes' first (or close to it) educational women's podcast, we spent nearly a decade contextualizing constructs, debunking body myths, sourcing cultural stereotypes and overusing heteronormative. Together, we archived an encyclopedic vault of more than 1,200 podcast episodes and YouTube videos dishing out accessible, inclusive feminist edutainment from the unexpected history of abortion rights to women and zits.
Our time-tested, audience-approved blend of fact-finding rigor and wisecracking authenticity garnered credibility from fans around the world and more than 1 million monthly podcast streams. It also earned shout-outs from Hollywood Reporter, Buzzfeed, Refinery29, The Guardian, CBC Radio and more.
In October 2018, our social-justice self-help guide Unladylike: A Field Guide to Smashing the Patriarchy and Claiming Your Space dropped from Ten Speed Press.
MEET CRISTEN & CAROLINE
When we met years ago at our college newspaper, neither of us had an inkling it was Unladylike fate. Cristen shared the backstory of their unlikely podcasting partnership with Hot Pod:
"Caroline and I were never 'supposed' to be podcast hosts. We were both printed word nerds, met at our college newspaper and hadn't ever regularly kept in touch. HowStuffWorks (HSW) wasn't even a podcast network when they hired me as a staff writer in 2008. Unbeknownst to me, Caroline was working as an editor at a mid-size newspaper. … By happenstance, Caroline had left the newspaper job, moved back to Atlanta, and gotten in touch with me. We met up at a sports pub of all places, and it's almost like we never stopped talking."
Together, we created hundreds of episodes of the HowStuffWorks.com podcast Stuff Mom Never Told You, including faves like The Queer Saint Who Invented Intersectionality, Finding Lisa Frank and Anxious Women.
Then in December 2016, we published our final SMNTY episode, The Good in Good-byes. And in spring 2017, Unladylike Media was born.
Cristen Conger
An established voice on 21st-century women, gender and feminism, Cristen prides herself in educating, inspiring and making folks laugh at the same time. Whether on the page, on stage, on camera, or in the podcast studio, she sees no stereotype too superficial, no inequality too insurmountable, and no topic too taboo to confront with credibility and candor. Her favorite food group is La Croix.
Caroline Ervin
Caroline is a research-driven feminist investigator always on the hunt for the hidden histories of women who've changed the world. An editor by training, Caroline employs her print journalism background in her new-media approach to educating audiences about health, history and pop culture through a gendered lens. She also loves Corgis, Otis Redding records, and strong gin + tonics.