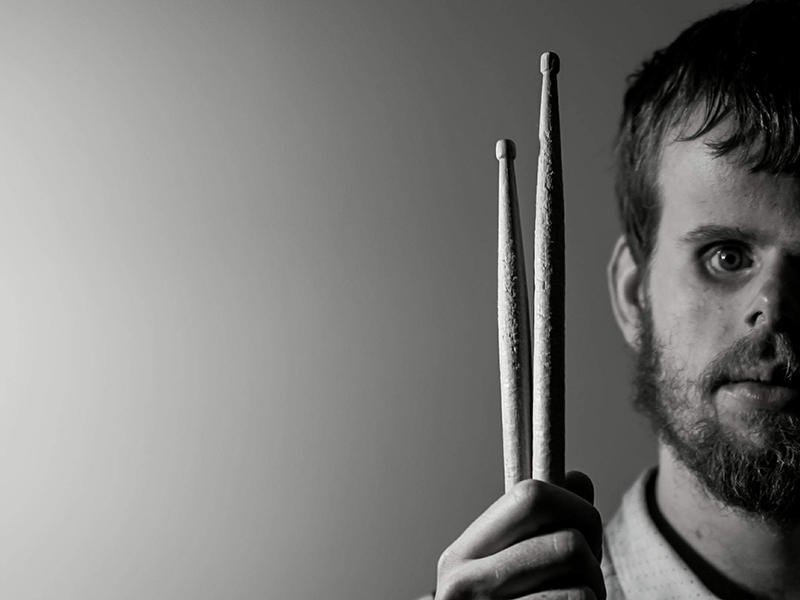 Tommy Carroll is a totally blind Chicago-based drummer / composer / producer seeking to create the soundtrack to a more inclusive world. A lifetime of developing creative skills to circumvent physical barriers has lead Tommy to draw on a wide array of influences when playing and composing music. As a drummer, he has performed nationally with rock bands, jazz combos, rappers, and singers of everything from bluegrass to soul. In his own music, Tommy builds emotive grooves and weaves them together with harmonic and sonic blueprints that allow performers to bring their own voices to the table.
Tommy's forthcoming album, Dances for Different Bodies, Vol. I, is a tribute to disability culture that uses rhythms of modern dance music as a template for group improvisation. The project was supported by the Chicago Department of Cultural Affairs and Special Events' Individual Artists Program and will consist of three volumes to be released in 2020 and 2021.
"The goal is to empower, not inspire," Tommy says. "I want to create art that celebrates the important perspectives and skills disabled people offer to society."
Tommy's band Calculated Discomfort has performed at major venues in Chicago including the Art Institute of Chicago, the Steppenwolf Theater, Sleeping Village, and Elastic Arts. He also has performed work as a member of the Society of Visually Impaired Sound Artists at Experimental Sound Studio's Oscillations Series, the Museum of Contemporary Art, and Agitator Gallery. Tommy's 2017 album Not Amazing confronts the mainstream's tendency to view people with disabilities as objects of motivation or pity. He has also released an album of free jazz (Calculated Discomfort, 2018) and an EP of pop songs (Listening, 2019). Described by the Chicago Reader as a workhorse drummer, Tommy has been featured on recordings spanning styles from freeform psychedelic rock, to elegant art pop, to sneakily angular modern jazz.