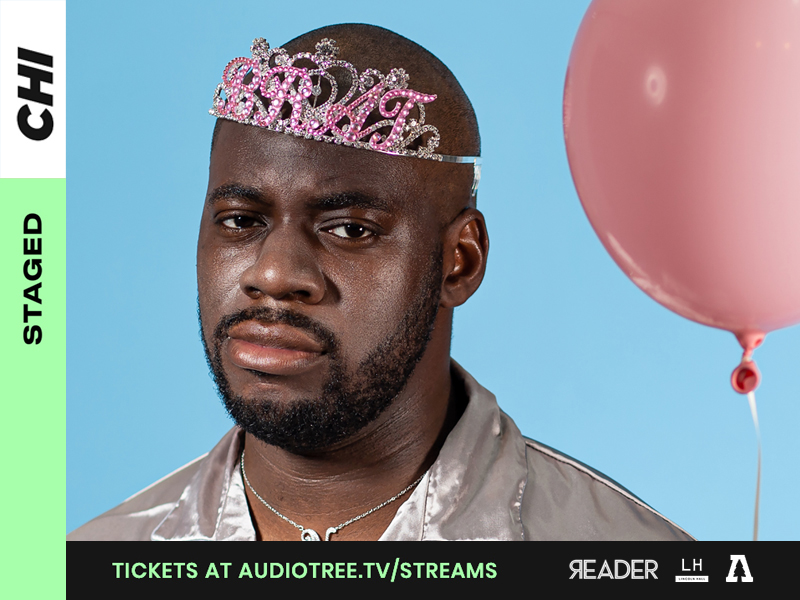 Audiotree Presents: STAGED
brought to you in partnership with
Chicago Reader & SOOPER Records
NNAMDÏ is a Chicago Recording Artist, multi-instrumentalist Producer / Songwriter, and co-founding member of Sooper Records. He is widely known for his prolific artistic output over the last twelve years, having worked as a collaborator on countless projects across genre, all the while independently releasing a torrent of self-produced and recorded solo albums. The release of 2017's DROOL (Sooper / Father Daughter) proved to be a tipping point, garnering wider national and international recognition for NNAMDÏ's innovative, genre-bending sound. After two years of rigorous touring behind DROOL, NNAMDÏ set to releasing his long-awaited follow-up album, BRAT (Sooper) on April 3, 2020.
NNAMDÏ's ambitious plans to promote BRAT were cancelled by Covid-19, including a scheduled Release Show at Lincoln Hall, and a scheduled US tour opening for Wilco and Sleater-Kinney. With time on his hands, NNAMDÏ set to making music in his home studio. He would go on to release two additional unplanned projects after BRAT in 2020. The Black Plight EP (6/5/20) was written and recorded in under a week in response to the murder of George Floyd and the protests for racial justice that ensued. The digital-only release was the highest selling record of any format on Bandcamp Friday, raising over $10,000.00 in 24-hours. NNAMDÏ donated all of the money to racial justice organizations and community members in immediate need of assistance. Less than a month later, NNAMDÏ released KRAZY KARL (July 3, 2020) a largely instrumental album whose title and sound pay homage to the late Looney Tunes composer Carl Stalling. The extremely limited run of 300 LPs sold out in 24-hours, and the album has since been removed from the internet. In a 2020 profile of NNAMDI in VICE, Wilco front man Jeff Tweedy echoed what many have known for years—recognizing NNAMDI as a "genius" and noting the incomparable and utterly idiosyncratic nature of his music. In recognition of his 2020 endeavors, the Chicago Tribune named NNAMDÏ Chicagoan of the Year. His 2020 releases were broadly recognized on Best Music of the Year lists.
To celebrate the one-year anniversary of BRAT, NNAMDÏ will perform the album in full during a live-streamed performance at Chicago's Lincoln Hall on May 15, 2021. This event marks the first full-band live stream NNAMDÏ will perform since BRAT's release… and will make good on the release show that never was.
THIS SHOW IS AT Your House