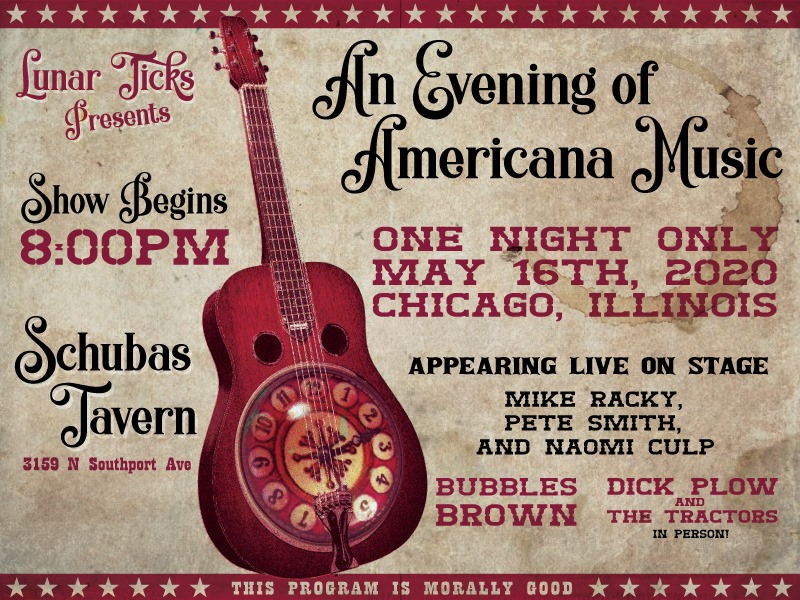 Lunar Ticks [Album Release] (Postponed)
All tickets purchased online come with a copy of the Lunar Ticks album!
In 2018 we launched an experimental EP project titled, "What's in a Name?". Each EP focuses on a specific genre or style (Punk, Funk, Jazz, Etc), where we'll try and navigate the idioms, energy, and feeling of the music, while of course, adding our own twist along the way. For our first release "Unknown Gnomes & Neon Hearse", focused on Garage Rock, Punk, and all things Heavy. This May, we are back with "Another Batch of Country Duds" featuring songs tied to Folk, Country, Bluegrass and other styles of acoustic Americana music.
As part of the release we've decided to essentially become these fictional bands for one night only, creating a unique and immersive experience for our audience. The show will feature the music from the new EP, thematic covers, plenty of improvisation, and our first ever AcousTick set! Joining us at Schubas will be one our favorite local blues/folk duos, Bubbles Brown. We'll have new merch and music available including album, bonus tracks, and select live shows for FREE when you buy your ticket online, so if you snooze, you definitely lose. Please join us for this special evening, we can't wait to see what happens!