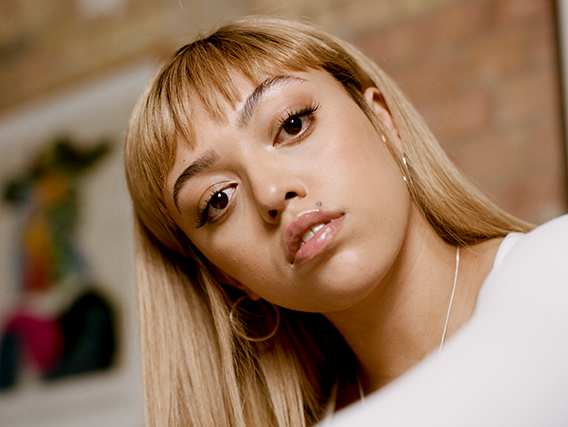 Audiotree Presents:
Vocalo Welcomes:
Mahalia
Letter To Ur Ex Tour
Tickets On Sale 5.6 at 10 AM
Mahalia Meet & Greet Package
One general admission ticket
Early entry into the venue
Exclusive meet and greet with Mahalia
Personal photograph with Mahalia
Autographed photo
Specially designed Mahalia notebook
Official Meet and Greet laminate
Limited availability
Spending her childhood in Syston, Leicestershire, Mahalia, similar to her geographical beginnings, felt like an outsider, particularly in school. Quickly, she turned those feelings into confidence and self love, finding refuge in the love of musical performance and ideation. Coming from a strong support system in her mother and father, she started performing at open-mic nights, learning to face her audience and sing with intention.
Mahalia's willingness to grow and shed her skin, led to her signing to Asylum/Atlantic Records at 13. "All of a sudden, I was back and forth to London at the weekend, in sessions and recording constantly," she says. Also attending the prestigious Birmingham Ormiston Academy, she added acting classes into her artistic repertoire, as well as opting to develop as a youth before diving full force into music.
The ability to pause activity whilst still being signed led to Mahalia embracing the multi-faceted, layered dimensions of being a teenager is exactly what informed her debut long-player project Diary of Me, released in 2016, when the singer was only 17. "'Marry Me' and 'I Remember' were some of the first songs I ever wrote about love," she explains. Across the nimble, but ambitious release, Mahalia's concoction of experiences are beautifully put across neo-soul productions, her candid, Gen-Z references of Snapchat et al, helping to inform her societal, and romance-related ruminations.
But it was 2017, that saw Mahalia, drop out of BOA, move to London and then back to Leicester before finally landing the first signs of musical breakthrough with 'Sober', which, upon its summer release of that year, and COLORS debut — now at 58 million views — went viral leading to a surge of DSP and social media growth in hours. "I was just watching the engagement skyrocket overnight."
Mahalia has never been one to shy away from her emotions, in fact, it's what heavily informs her discography to date. On 2018's Seasons, she aligns different aspects of romantic entanglements to the concept of experiences. "It definitely was intended to explore all of my various feelings, experiences, and expressions towards situations in love," she says. It's on the singer's debut album Love and Compromise however, that she stylistically blooms in experimentation and presents to the masses a holistic crème brûlée of approaches, particularly on releases like 'Simmer', which cracked the top 40 on the UK R&B Charts and top 50 on the Official Chart. Mahalia was effortless amidst the songs dancehall-laced, enchanting universe, proving her versatility as a British veteran in music.
Christened in many Grammy, BRIT, Soul Train and MTV Push nominations over the years, as well as two MOBO-wins for for Best Female Act, and Best R&B/Soul Act, Mahalia still proves that beyond the accolades, an overarching dedication to persistence is what's driven her to look inward, grow and ultimately challenge herself with each and every release to date. Her upcoming EP, Letter To Your Ex, is an example of the culmination of the artistic development she sometimes inherited, but other times self-initiated under her years at Asylum/Atlantic. "I'm so much more present now, I had to reconnect with everything and I just wanted to do this concept, really toying with my 'partners' ex dynamic and storytelling."
'In The Club' places Mahalia on new ground, a footing she was placed into by her partner also. Interpolating the number, and half-singing, half-rapping, Mahalia's fuller and extended runs demonstrate her robust offering in 2022 whilst eloquently conveying her rap alter-ego. "I'm really proud of that song," she notes. Mahalia additionally leans into other sides of R&B's expansive ecosystem, this time infusing a smokey version of neo-soul, on 'Whatever Simon Says'. Heavily conversational in her approach, Mahalia toys with her tone here, making the song feel as close to a direct response to someone as possible.
The EP's closer 'Letter To Your Next' centres the woman, and follows in the conversational framing lyrically, across a minimalist piano, Mahalia's pure and passionate execution, is a potent example of her ascending into her artistic prime. Working extensively with JD Reid, alongside additional talent such as Cadenza Letter To Your Ex, informs Mahalia's next arcs of her career, which she's loosely described as 'Mahalia 2.0'. "I'm definitely in [2.0] phase now," she affirms. "I'm not questioning anything anymore, I feel like I'm able to communicate exactly how I feel and exactly who I am now."
Even with her legion of 3.8M monthly Spotify listeners, there's more territory to break. "I'm almost glad 'Love and Compromise' didn't go completely sky high, it's given me room to keep developing, keep growing and go higher than I've ever been before. I'm so ready to bridge the gap now, I feel like I'm absolutely playing the long-game."