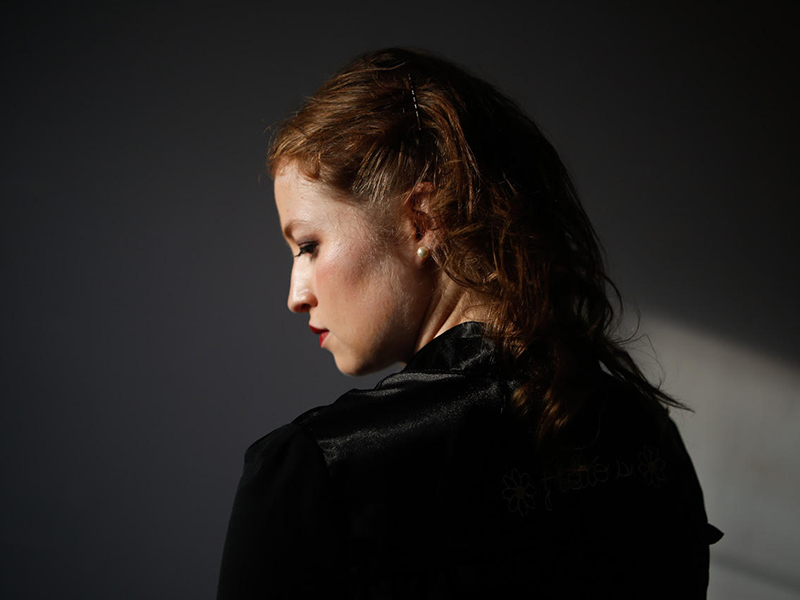 Audiotree Presents:
'Force To Reckon' Record Release
7:30PM DOORS | 8:30PM SHOW
On Sale Friday 06.04 @ 10AM
Emerging from Chicago's flourishing indie music scene, Half Gringa creates music informed by contemporary indie-rock and Latin American and midwestern folk. "When you grew up in the Midwest really into alternative rock, but heard a lot of country music in the supermarket," offers Isabel Olive, the songwriter and multi-instrumentalist at the core of Half Gringa, when asked to place her music in a specific genre. "Or when your mom loved Bruce Springsteen and Maná and sometimes your brain starts playing them at the same time." The name Half Gringa is both a tribute to and study of her legacy, stemming from a childhood term of endearment as "la Gringa" in her Venezuelan family and her bicultural experience growing up in the United States. Olive's work seeks to narrate her tireless pursuit as a pupil of both her origins and her experiences.
Force to Reckon is the Chicago-based artist's second full-length album, following her locally acclaimed debut, Gruñona, which landed on Chicago Magazine's "10 Best Chicago Albums of 2017" and Chicago Reader's "Best Chicago Albums of the Decade." On the self-produced 9-song set, Olive is joined by her full-time band members — Nathan Bojko (drums), Sam Cantor (guitar), Andres Fonseca (bass), Lucy Little (violin) — as well as Ivan Pyzow on trumpet, with occasional harmonies and piano from fellow Chicago singer/songwriter Gia Margaret. But Force to Reckon has the intimacy of a solo project, and engaged listening feels like a glimpse into Olive's journals of the last three years.
"I'm very goal-oriented, but I'm also a very anxious person," she says. "And I always need to have a plan or a process and try to predict every outcome so I'm prepared with my next move. When I started writing these songs I was feeling emotionally upended, a bunch of things came at me that I did not predict, and instead of feeling and responding in the moment, I swallowed all of it. These songs feel like little eruptions as a result, they're all trying to reach a point of catharsis, but you can't force catharsis."
Vocally forward and instrumentally full, the songs on Force to Reckon have a quality that feels personal, yet meant to be shared. Olive's poetry background is prominently displayed, with carefully selected words used to craft narratives grounded in various different textures, and each part feels intentional and precise. It's meticulously composed but not cautious. "I was trying to figure out how to express my own vulnerability, my love towards other people, in a way that felt like I was giving myself permission to do so, while accepting that loss and estrangement are inevitable," she goes on to say.
Each song reaches a climactic peak in its own way and even slower tracks on the album capture something that feels expansive, both sonically and emotionally. "I don't know your feelings by their first name," Olive sings emphatically on "Afraid of Horses," an apology punctuated by a pizzicato violin echo and soft harmonies from Gia Margaret. And although the record is steeped in heavy-hearted themes, Olive often dissects those subjects using tongue-in-cheek humor: "1991 was good to you and I," the 28-year-old deadpans at the start of upbeat opener "1990," which traces the anxieties of adulthood back to oft-forgotten childhood memories.
Elsewhere, on "Transitive Property," Olive explores grief and loss, over a bed of bittersweet fingerpicked guitar, by expertly placing the abstract concepts into the context of everyday change rather than mortality. "I've realized that bereavement is about more than a person dying," she explains. "It's an absence that you can't control." After her grandmother passed away while Olive was on tour, she tried to bury her grief in productivity but eventually realized she needed to set aside time to process. On "Forty," the album's string-heavy closer, she finally allows herself long-overdue space to mourn.
Force to Reckon is, as the title suggests, an album with a powerful presence. Though deeply personal, Olive leaves listeners space to relate and experience their own catharsis. "None of the songs on this record resolve, really," she explains. "Many end in the middle of a thought, because this record is about how much I'm still in the middle of my grieving process. Lines like 'Time will tell if nothing else' and 'I will mourn you in advance, but I never really get the chance' sound like hindsight, but they were more like predictions when I wrote them. I spend a lot of time looking away from things I don't want to deal with, but I know they're still there. And my eyes are getting tired, I guess."