LHST Vaccination Policy
Proof of vaccination is required for entry to all shows at Lincoln Hall and Schubas in Chicago, and to all Audiotree Presents shows in Michigan.
Click here
for more information on this policy for Chicago shows, and
Click here
for Michigan shows.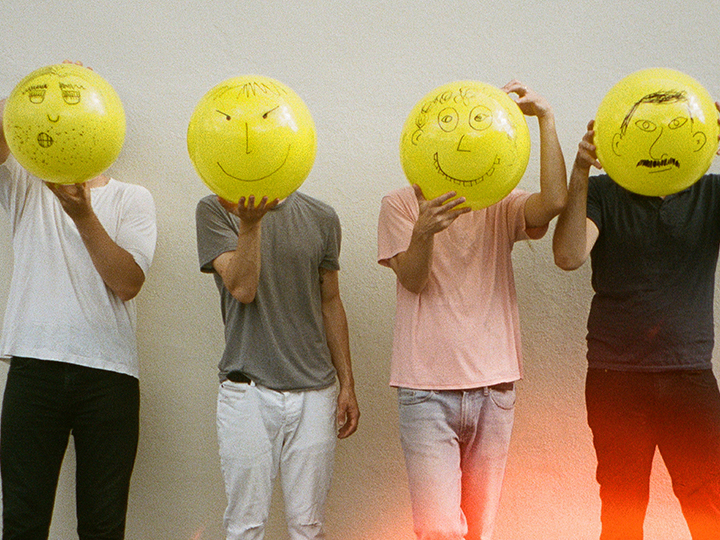 They grew up in the shadow of Canada's capital. A small town called Manotick, where kids had to hatch their own fun. For brothers Jake (drums) and Nixon Boyd (lead guitar), Menno Versteeg (guitar, lead vocals) and Dean Baxter (bass), their dream of trading songs for adventures as Hollerado would turn into more than a decade of packed venues, radio hits and world travels.
Formed in 2007, Hollerado's early days were like hobos riding the rails. Tours were hand to mouth — sleeping rough in shopping mall parking lots, buying a CD burner then returning it the next morning for a refund after a frantic night of burning demos and packaging them in cheap zip lock bags. Or pulling over at random bars and trading a gig for gas money. All to make sure they could get to the next venue.
They honed their live show, adding gravity-defying leaps, coordinated spit showers and fusillades of confetti. Each set was a celebration. It was put to the test, touring with some of their favourite bands including The Flaming Lips, Weezer, Beck, Gang of Four, and Portugal. The Man. Touring would take them as far away as South America, Moscow and China (twice!) And everywhere in between – less worried about making money than getting a life's-worth of adventures, memories and stories.
They let fans decorate their van with magic markers and house-paint graffiti, despite it ensuring 'special treatment' by suspicious board guards. And they organized and hosted Nacho House parties in Montreal, Toronto, and even one in Austin Texas during SXSW, with a 3 a.m. trip to Walmart to buy the four toaster ovens, cheese, chips and jalapeños needed to make it a success.
Hollerado's Do-It-Yourself spirit served them well. They created their own record label, Royal Mountain Records, which helped propel bands like PUP and Alvvays through their startup days. Hollerado kept the DIY aesthetic for their first release in 2009 – Record in a Bag. Besides the glitter, stickers, and temporary tattoos added to every zip-locked package, the album was stuffed with songs about what they knew best – drinking, having fun, and life on the road.
A steady stream of rock solid indie hits followed, with college and mainstream radio embracing their powerful but accessible sound: Juliette Americanarama Got to Lose Fake Drugs – all climbed the charts and raised the band's profile.
In 2013, they released their second full-length, White Paint. Like its whitewashed cover that could be scratched off to reveal complex art underneath, the songs were the same, displaying a deeper maturity that told of the struggles of loss, drug-fueled late nights, but ultimately forgiveness and redemption.
To promote the album, Hollerado offered a special package deal that included vinyl, a t-shirt, poster and the promise of a custom song. That promise turned into a mammoth undertaking lasting two years as the band refused to just quickly toss off hastily produced ditties. The result was an eclectic mix of 111 songs ranging from indie rock to acoustic jams, and experimenting with electronic, rap, and even spoken word. The collection was released digitally in 2015 as 111 Songs.
After taking a deep breath, they hit reset and got back to their roots in 2017 with Born Yesterday, once again using their go-to producers Gus Van Go and Werner F. They toured Europe and went as far east as Moscow, capping off more than 2,000 shows throughout their years.
Confident in the legacy they had established, the band announced in 2019 they would finish one last record, Retaliation Vacation, that they would write, record, produce, engineer and mix by themselves. A true Hollerado farewell gift to the thousands of fans and friends they made along the way. They go out the way they came in, still a tight-knit family with a catalogue of catchy-as-hell songs and a cannonade of confetti.