This show has been rescheduled from Wednesday, May 11 to Tuesday, October 18. All previously purchased tickets will be honored. Ticket buyers will be contacted with confirmation.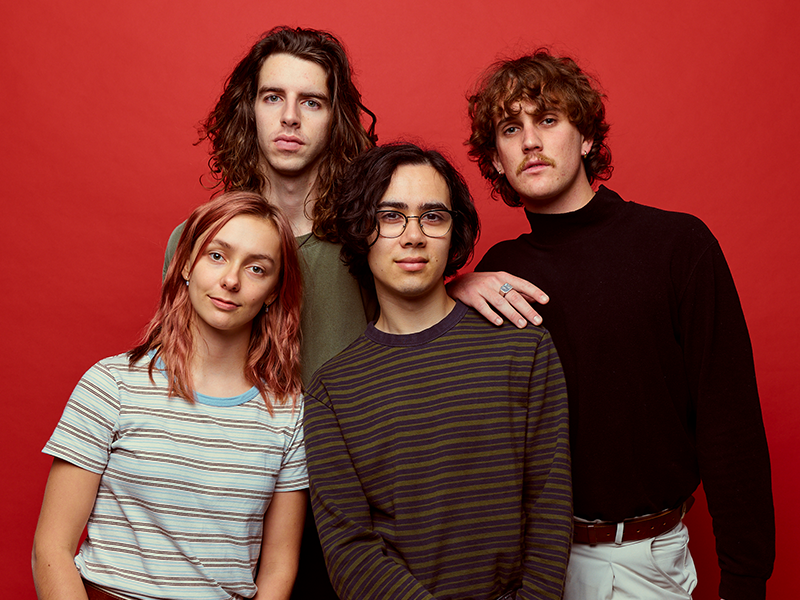 On Sale Friday 01.21 @ 10AM
ARIA award winning Fremantle band Spacey Jane seized the moment in 2020. With the pandemic ravaging the music industry, the quartet may have lost tour dates but stuck firm to the June 2020 release of their debut album Sunlight.
"The best thing a band that can't tour can do is put out an album," Spacey Jane singer Caleb Harper says. "It feels like 2020 set us up for success," drummer Kieran Lama says. "All the things fell into place. We thought 'Fuck it, let's put it out'. There was so much space for it, everyone was so hungry for it."
That appetite saw Sunlight – intimate tales of failed romances and mental health disasters set to euphoric tunes – soar into the ARIA chart at #2. Album favourites "Weightless", "Skin" and "Straightfaced" all lobbed in last year's triple j Hottest 100, but it would be the album's final single, the instant-classic "Booster Seat", that jettisoned Spacey Jane into the mainstream.
"Booster Seat" landed at #2 on the 2020 Hottest 100, ahead of Flume, Ball Park Music and Tame Impala and only behind Glass Animals (the UK band sending their congratulations over social media). The single went onto win Song Of The Year at the 2021 ARIA Awards, while achieving platinum sales and scoring over 20 million streams.
It has been an incredibly swift ascent for the band who formed in 2016. Caleb and Kieran met in high school in Geraldton, Western Australia: they were the only people they knew who played musical instruments. "We were at a very small school," Kieran recalls. "so statistically speaking the odds of this band forming in high school were tiny. So good job to us!"
After moving to Perth for university the pair formed their first band Sicchino – one song, "Still Running", would later end up as Spacey Jane's debut single. "It was rockier," Caleb says of the band they've tried to erase from the internet. "I was listening to a load of early Kings of Leon, plus Radiohead, Coldplay, San Cisco, Vampire Weekend, The Strokes."
Kieran met guitarist Ashton Le Cornu at university in Perth; he'd bonded with original bassist Amelia Murray after she noticed the Nirvana and Pearl Jam stickers on his laptop. With an instant chemistry, the foursome became fast friends. "Caleb and I tried playing with a few people, but it hadn't really clicked," Kieran says. "But with Ashton and Amelia it was all guns blazing. We were raring to go." "Amelia really changed the dynamic in the band," Caleb adds. "It was less testosterone-fuelled, basically. Ashton was a grunge guy at the time, Kieran and I not really at all, so it was a nice melting pot of influences. We weren't good enough to replicate any particular sound back then, so what we created then happened to become our own thing."
The band name? Each member has their own recollection of the story. The key components involve alcohol, a list of adjectives on Amelia's phone that included 'Spacey' and a friend named Jane.
A month after their first ever show, a band trip to Splendour in the Grass in 2016 (as punters, not artists) inspired Spacey Jane to take things seriously, ASAP, and they set their goals on playing the event. Kieran multi-tasked buying a drumkit over the phone while in the queue for drinks. "We'd played maybe three shows as a band tops," the drummer says. "That's when I decided I needed the cymbals I still own and play."
2017 saw the release of their first EP No Way To Treat An Animal – home to streaming hits "Thrills" and "Feeding the Family". Two more EPs, In The Meantime and In The Slight, would follow in 2018.
They ticked off selling out their first hometown headline show as well as festivals including Yours and Owls, Laneway and Falls before finally playing Splendour in 2019.
By that point Amelia had left the band to follow her first love, medicine. "She got to the point where she had to decide between the two things," Caleb says. The band found their bassist Peppa Lane through mutual friends."It was instant," Kieran says. "Even in the first rehearsal Peppa made the songs so exciting for us, she gave us energy, an immediately positive influence," Caleb notes. "She's also got an amazing voice too, which is great to have in a band."
Splendour was indeed Peppa's second show with Spacey Jane. "It was a nice way to welcome into a band and let them know it's going to be a good time," Caleb says. "That was definitely a 'wow' moment," Peppa says.
While they got to tour Sunlight around WA in 2020, the foursome finally played postponed East Coast dates in 2021, playing songs fans already loved while their Hottest 100 cache made waves overseas.
"It's this undeniable signifier of where a band is at in terms of Australia," Kieran says of the Hottest 100. "It changed a lot for us, we can definitely commit to just being a band and not doing anything else for the next few years at least…" Kieran also does double duty as the band's manager – noting that role is "definitely more taxing – if I'm awake at 2am due to work it's not because I'm trying to get a para diddle down…" "There's an unspoken but very obvious situation," Caleb explains, "where we know Kieran is working for us and in our best interests because he's as much invested in this as we are."
The "Booster Seat" video has now had well over half a million views, while the song has cracked 28 million Spotify streams.
"We had that song for so long, we never realised it was going to be a huge hit when we were recording it and first playing it, it was a surprise," Ashton notes. "When Peppa put her vocals on it we thought 'Wait, this is actually quite special'."It was a slow burner for me and for a lot of people I think," Caleb says. "Ashton's riff is huge; it gets you into the song. And there's this vulnerability and soft imagery that everyone feels, it's a big, slow, singalong chorus. It's got all the little bits that allow people to take it on as their little anthem for a period of time. Which is cool."
Part of Sunlight's appeal was Caleb's lyrical honesty. They may be wrapped in clever metaphors, like being at the mercy of the ones closest to you in "Booster Seat", but they connect. "When you're dealing with any trauma or break-up, it can be quite messy as it's going on," Caleb says."Songwriting is a way to simplify it and make it concise. I know my mental health struggles and heartaches aren't vastly different to most people I know, so to talk about it in a really simple way is good, people think 'I get that, I've been through that'."
"Booster Seat is amazing to play live," Peppa says. "Sometimes you see people crying. It has a lot of meaning to a lot of people." "Booster Seat" is getting radio attention in the UK and US, but the band are already working on a second album with producer Konstantin Kersting (The Jungle Giants, Mallrat, Milky Chance) as well as Sunlight's producer Dave Parkin.
The band's first taste of new material is the single "Lots of Nothing". Road tested on their sell-out tour in the first half of 2021, it pinpoints a subtle development of their sound, with intricate guitar work and Caleb exploring his falsetto.
Lyrically, Caleb came up with a concept of all the parts of his personality he didn't like being personified in a clone of himself – who he'd then try to reconcile."I had the idea you should be able to love and accept that person, or see which parts of them you want to do away with entirely," the singer says. "It's told through the story of going on a weird road trip where that clone dude is third wheeling."
The second single "Lunchtime" was released in October and premiered globally as a "Zane Lowe World First" on Apple Music 1. "I wrote this song while experiencing severe hangover anxiety and feeling extremely hopeless. It's fun to juxtapose fast upbeat instrumentation with somber lyrics and themes. I'm trying to explain how I feel like I'm just going through the motions with love, career, friends and family. I felt like everything was just happening because it had to and not because I cared about it."
They'll finish recording their second album this year and have international tours slated for early next year.
"The Hottest 100 was a double-edged sword, you're happy but you feel you have to follow it up in some spectacular way," Kieran says. "There is a glow you bask in after a big moment," Caleb adds. "But that tends to not last that long. So you want to recreate it by doing the next thing, delivering something good again. That's always there in the back of my mind. I try to balance it with a sense of being content, but I guess I appreciate the fire under me that it lights in a sense. There's always this niggle, we need to move onto the next thing otherwise people will get bored or forget us. That drives us."
And they remain a tight unit ready to take on the world – even hanging out in their spare time, playing golf and watching movies, in-between touring and recording sessions.
"There's no one I hang out with more than the other members of this band," Kieran says. "This is my life and I'm very OK with that."