We look forward to you joining us for our upcoming House of Bodhi with Lola Wright experience on October 22. We're grateful for our regular supporters who underwrite our ticket prices making the cost of our experiences accessible. Along with your ticket purchase, we ask that you consider making an additional gift of support by texting GIVE to 773.770.8577 or visiting bodhicenter.org/giving . We appreciate your generosity!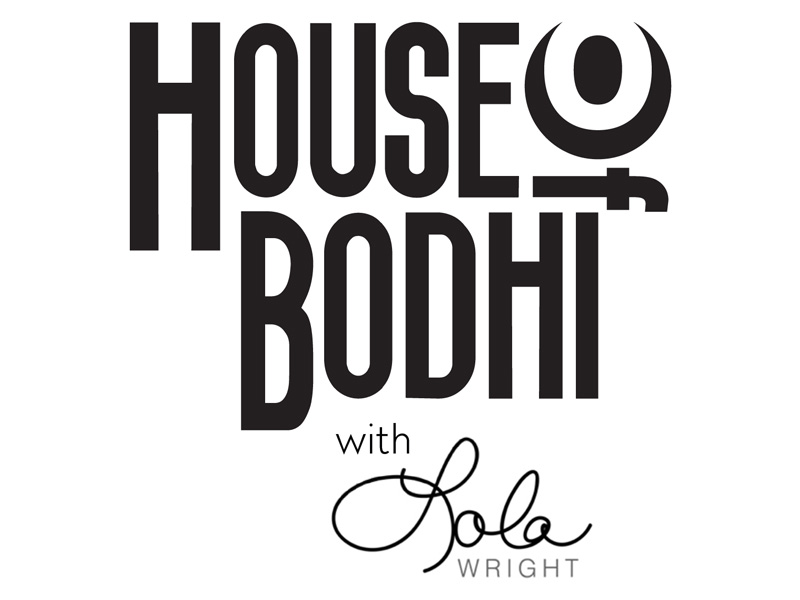 Chicago's Bodhi Center is proud to share our brand new immersive experience,
"House of Bodhi with Lola Wright"
Each month, Lola curates a live gathering at an iconic Chicago music venue with the inspiring musicians of the Bodhi House Band and original work from Chicago's most moving cultural leaders. This monthly gathering provides an expansive experience for human beings who are committed to awakening their self-expression and deepening their connection to community.
Our October premiere explores our collective definition of HOME and features special guest Elijah McKinnon an award-winning strategist, creative director, entrepreneur, artist and advocate from the future. They are also the co-owner of Reunion, a sliding scale gallery, event space and project incubator located in Chicago's Humboldt Park neighborhood with a mission to provide a collaborative and grounding environment for LGBTQ + folks and communities of color to create and commune freely. Reunion also serves as the HOME of Bodhi's new Community Space.
Join us on October 22 at Schubas Tavern as " House of Bodhi with Lola Wright" invites you into a new way of being that will move your body, provoke your mind and awaken your soul. We're looking forward to creating something beautiful together.
For more info, visit bodhicenter.org
Lola Wright (Host) is a Chicago original, born and raised. As CEO of Bodhi Center and Executive Producer & Host of "House of Bodhi with Lola Wright" and "And This is Bodhi" the podcast (launching October 16), Lola engages change agents and explorers locally and around the world. Lola is a master excavator of fear. Her work disrupts the lie of separation, the addiction to woundedness and the violence of oppression. Lola's super powers include a willingness to reveal herself authentically and candidly demonstrating freedom, self-expression, and an infectious sense of humor. As a fierce and loving presence, Lola serves as a lightning rod for personal transformation and collective awakening.
Ameerah Tatum (Music Director) says she didn't choose her career as a performer, it chose her. She began her career at the age of 10 singing with her sisters in an acapella jazz quartet called The Tatum Sisters. She began playing the club scene at the early age of 15 and by age 18, she was auditioning and touring with National and International recording artists. As a background singer and dancer she toured with artists such as The Brand New Heavies, Sheena Easton, Paula Abdul, Janet Jackson, and Stevie Wonder, among others. She is the voice on countless radio and television commercials, and has also sang background vocals on the albums of an extensive list of recording artists, including Don Henley the lead singer for the Eagles, and Will Downing.
Her favorite things are being the mother of two boys, being an artist, yoga, food, the sun, warm wind, and less doing, more BEING.
Elijah McKinnon (Featured Guest) received a Bachelors of Science from the Art Institute of San Francisco in Marketing and Management with a focus in Campaign Development and New Media studies. In addition to serving as the Founder and Director of People Who Care, Inc. —an independent consultancy that works exclusively with nonprofits and grassroots initiatives such as AIDS Foundation of Chicago, Northwestern University, The Andy Warhol Foundation, Grindr for Equality, Raúl Anguiano Art Museum, Center for Disease Control and many more — they are also deeply involved in queer, creative and philanthropic communities around the globe. Elijah co-produced and starred in Chicago's #PrEP4Love campaign; is the Co-Founder and Development Director of Reunion Chicago, a exhibition space and project incubator prioritized for queer, women-identified and people of color in creative roles; is the Co-Founder and Executive Director of OTV – Open Television, a web TV platform for queer, trans and artists of color; and is a curator in residence at Estudio Teorema, a culturally-charged activist gallery, and production studio located in Guadalajara, Mexico.
Their professional, artistic, and advocacy work has been covered by the Chicago Tribune, Out Magazine, CBS, VICE, Pride, Chill, Red Eye, Into and many more publications. They have performed in spaces such as the Museum for Contemporary Art, Salonathon, Soho House and more. In 2016 Elijah was named "Top 30 Under 30 LGBT People" in Chicago, Illinois by the Windy City Times and was invited to the first annual African-American LGBTQ Education Summit at The White House. In 2019, their organization, OTV was featured in the top ten list of New City's Film 50.
Bodhi Center (bodhicenter.org) is a conscious community for people who are ready to transform themselves and their world . Born in Chicago and expanding globally, Bodhi puts media, education, entertainment and like-minded community to work in support of transformation . We disrupt the unconscious patterns of fear that create scarcity, lack and limitation and invite those we encounter into greater joy, peace, freedom, and abundance.