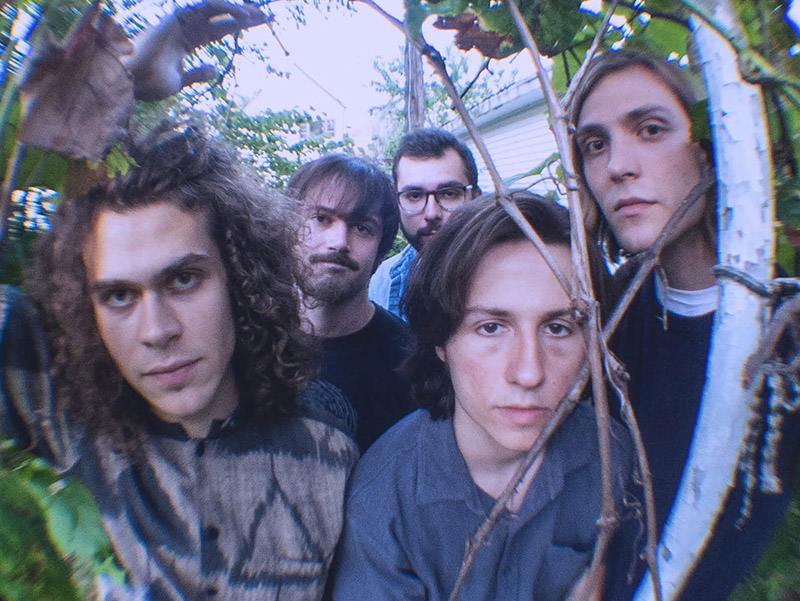 312unes Presents:
[LP Release]
Modern Vices are persevering. Heavily active in the Chicago scene since the release of their self-titled debut in 2014, the five-piece has spent time on the road building their live show and honing in on their songcraft. Where their self-titled album boasted "swaggering urban garage rock" (Stereogum), their sophomore effort, If Only, is a nine-track collection of polished, energetic bursts.
Following touring slots with the likes of Twin Peaks, White Reaper, and Diane Coffee, the five of them – Alex Rebek (vocals), Miles Kalchik (bass/keys), Thomas Peters (guitar), Peter Scoville (guitar), and Patrick Hennessey (drums) – hunkered down at Chicago's Treehouse Records. There, they meticulously experimented with self-production and recorded a majority of If Only on analog. If Only sees the band taking a huge step forward in production. Their first record was completely DIY, recorded in a basement with minimal gear. "For If Only we deconstructed how we approached the recording process," says Scoville. "This time we were able to explore the studio and experiment with different equipment and work in different settings."
For If Only, the band took several trips down to Nashville and Bowling Green to record in different studios, working with new engineers and their manager to explore writing in ways that they previously hadn't. "Working with others present really helped to push ourselves harder as songwriters, both in and out of the studio," says Kalchik. "Having an outside ear to our sound meant we could take a step back on what certain songs needed structurally or sonically and fully flesh out new ideas to their fullest potential." Eight of the album's tracks were mixed by Joshua St. Moblo (Ron Gallo, The Weeks), with additional mixing by Jeremy Ferguson (JEFF the Brotherhood) on the closing track, "Alora."
If Only sees Modern Vices moving into a more stylized direction, driven by bright guitar and darker, new wave elements. The youthfulness of their self-titled is still at full force, but with a refined direction. For the bulk of the LP the instrumentation was recorded first with lyrics written later. "Lyrically and instrumentally this record displays the different rhythms of love and emotion," says Rebek. "One song may be about a friend while the other is about someone closer or something experienced in a dream. The complexity of love and emotion may seem infinite, but expressing it thoroughly through music is our way to shed light on a specific feeling."
This is clear in "Of The Night," a heavy punch of an opener. A raucous meditation on a relationship, Rebek's thunderous vocals are on full display throughout. Its successor, "All You Got" continues that brisk tempo. Over jockeying guitar, the track thoughtfully reassures a partner experiencing self-doubt.
One of the stickiest earworms in Modern Vices' catalogue, "The Moment," is a highlight of the band's growth. Quick-tempoed with buzzing bass and thumping percussion, the track exerts a newfound control in instrumentation. Its successors, "Not A Problem" and "If Only," are further proof of the band's advancements in delivering a quick punch.
Where the first half of the album demonstrates their ability to draw listeners in, the later half showcases Modern Vices dynamic growth in sound. Rhythmic-oriented songs like "For Yourself" and "On My Side" thrive at locking you into a tight moody grove with intertwined guitars before the opening up to powerful held out chords in the choruses. Beginning with just an acoustic guitar and vocals, "Telephone TV" shows the band's patience in their vision as bass, electric guitar, synth, and finally drums are gradually layered into the album's most relaxed song.
The slow burning "Alora" is the LP's last track. Starting with a throbbing synth, it's perhaps one of the most sonically different songs that the band has made. Hazy vocals, drifting guitar, and resonating drums make it a stunning closer, and one that cements Modern Vices as a band that's determined to push forward. Kalchik adds: "We're thankful we had this time to be more deliberate in what we want to be our sound, and now that we have it we're only just starting to hit our stride."
~ Jaycee Rockhold