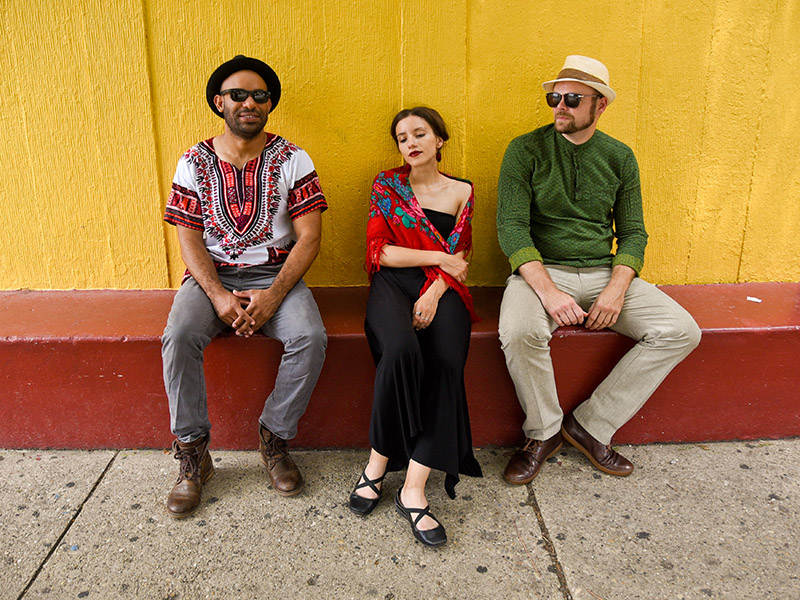 A NIGHT OF GLOBAL SOUNDS, IMPROVISATION, AND COMMUNITY
Colligo by Beats y Bateria
Colligo is a new party which centers around global sounds, collaborations and community. Beats y Bateria will provide the backdrop for some of Chicago's great sound makers. For the first edition we will be joined by Hunter Diamond (woodwinds), Saraswathi Ranganathan (veena) and Davor Palos (vocals). Come and explore new sounds with us and be a part of recordings that will possibly be released in 2020.
Beats y Bateria
How do classic rumbas, 100 year old folk tunes, and ancient rhythms fit in the percussive electronic music of today? Come find Beats y Bateria: a collaboration of Havana-born, Chicago-based DJ/Producer AfroQbano, Moldovan-born ethno-jazz singer Ana Munteanu and global beat drummer Daniel Crane. The three members come from different musical homes but what they do together is set a mood of celebration and nostalgia under the umbrella of global bass.
Collaborators:
Hunter Diamond- A saxophonist and creative musician living and performing in Chicago, IL. Through his compositions and improvisations, he maintains a consistent presence in the local creative music community.
Saraswathi Ranganathan- She is the first Indian woman and Veena artiste to win a Chicago Music Award in its 35-year history, the first Veena artiste to perform as an orchestra member of Disney's Jungle Book production and the first Veena artiste to receive a $10,000 grant from the Logan Foundation in Chicago. She attributes her path-carving success to the inclusive energy in her music and in her life. Her goal? Bring artists and listeners together as one community united in music and understanding.
Davor Palos – lead singer of Ode and classical trained vocalist Davor connects his Balkan roots with a theatrical style of Jim Morrison and lyrical prowess of Tom Waits.