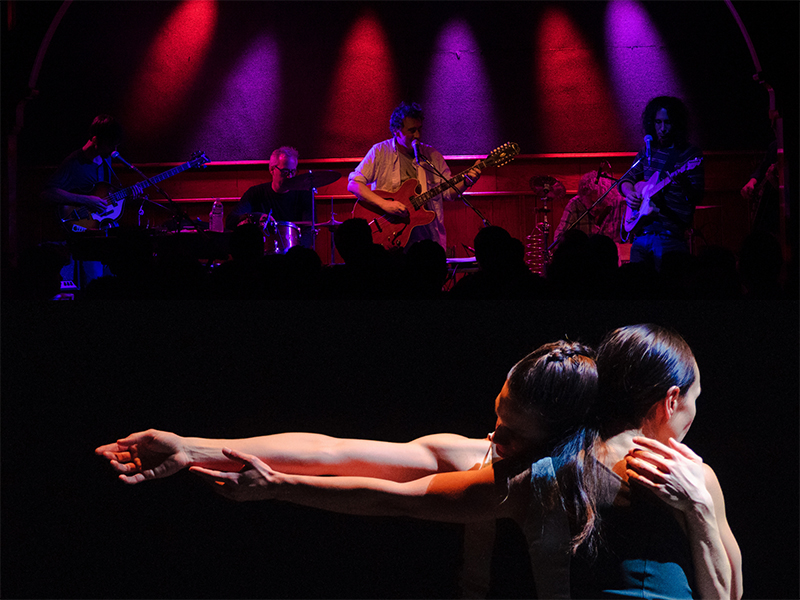 Audiotree Presents: Staged
Part of Independent Venue Week 2020
$15.00 advance
Audiotree presents STAGED: a virtual show experience presented live from Lincoln Hall in Chicago, IL.
Tickets are on sale now for Califone and Robyn Mineko Williams and Artists on October 27! A portion of proceeds benefit CIVL – Chicago Independent Venue League
Providing audiences with new perspectives on their acclaimed 2019 collaboration, Echo Mine, Califone and Robyn Mineko Williams and Artists premiere Echo Mine v2 exclusively via STAGED, Audiotree's new livestream concert series. Echo Mine v2 highlights musicians and dancers working together as one, blending Califone's "urgent, lushly melodic" soundtrack (Billboard) with Mineko Williams' "stirringly magnetic" choreography (Chicago Reader).
Originally staged live at the Harris Theater for Music and Dance, Echo Mine was inspired by and created alongside Chicago dance icon Claire Bataille, one of four founding members of Hubbard Street Dance Chicago and longtime director of the Lou Conte Dance Studio. Danced by three Chicago-based artists mentored closely by Bataille, Echo Mine v2 explores the nature of artistic legacy and lineage, as well as the inimitable qualities Bataille brought to her work as a dancer, choreographer, and teacher. In October 2017, one month after her first rehearsal with Mineko Williams for the project, Bataille was diagnosed with pancreatic cancer and she passed away at age 66 in December 2018. Before her untimely death, Bataille encouraged the work's completion.
Joining Califone's Tim Rutili (bass, guitar, keyboards, vocals) for Echo Mine v2 are longtime collaborators Brian Deck (bass, electronics, percussion, synthesizer) and Ben Massarella (percussion), responding live within the framework of Califone's Echo Mine score to the unique qualities and rhythms of this multi-camera presentation at Lincoln Hall.
Joining choreographer Robyn Mineko Williams are Meredith Dincolo—like Williams a former company member at Hubbard Street—and current company member Jacqueline Burnett.
Echo Mine v2 adapts original scenic and projection design by CandyStations (Deborah Johnson), lighting design by Eric Southern, and costume design by Hogan McLaughlin. Echo Mine, the first new Califone album since Stitches (Dead Oceans Records, 2013), is available now digitally, as a vinyl LP and a CD from Jealous Butcher Records.
Echo Mine premiered in partnership with the Joan W. and Irving B. Harris Theater for Music and Dance on December 7, 2019, with major support provided by a 2018 Princess Grace Foundation–USA Special Projects grant, a 2018 DCASE Individual Artist grant, and Jack and Sandra Guthman. Original music for Echo Mine is commissioned by the Charles and Joan Gross Family Foundation. Facilities access for the development of Echo Mine v2 was provided by the Joan W. and Irving B. Harris Theater for Music and Dance.
THIS SHOW IS AT Your House