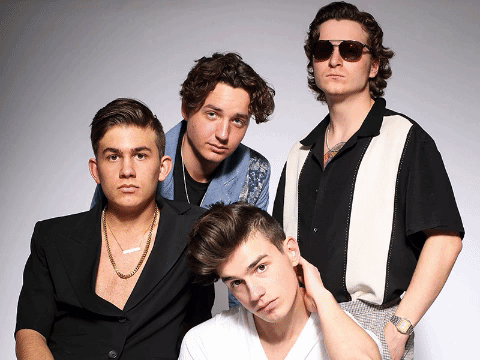 Guytano
Minnesota based Guytano is made up of brothers Grant and Eddie Hamilton along with Isaac Hesse and Colter Benoit. The band first met in 2010 while attending middle school in Sartell, Minnesota where they began covering punk rock songs eventually finding their own synth based pop rock sound behind the songs of the bands Grant Hamilton.
In 2016 Guytano released their self-produced debut album, 'I Am Inside My Body', which was recorded with Aaron Ankrum and mastered by Huntley Miller. The song "Fall Back In Your Arms" received an immediate response on digital streaming services, college and commercial radio, and became an instant fan favorite at their live shows. Music from their debut album also appeared on numerous television networks including NASCAR, Discovery, and MTV's The Real World and Teen Mom 2.
Guytano began releasing new music in the summer of 2018 led by the singles "Please Say No" and "Burn It Slow". Along with an anticipated yet to be titled new EP, the band is preparing to hit the road to bring their music to the masses as they begin the next exciting chapter of their story.
Northern National
Alternative Band Northern National released their debut EP, The New Age, in the fall of 2016 and have never looked back. The Dallas, TX based 4 piece has toured with acts such as Blue October, The Unlikely Candidates and The Band Camino and shared the stage with more. The New Age features 5 indie-rock gems, including their debut single, Love is Fire, and their heartfelt love song Dallas which caught the attention of Spotify.
Love is Fire was featured on Spotify's Discover Weekly playlist and charted on Spotify's Viral 50 worldwide. Music curators such as Topsify, Filtr, and even Coca-Cola, have also featured the song on their playlists. Since the release of The New Age, Northern National's songs have been streamed over 1.8 million times and counting. You might have even heard them while watching TBS or MTV.
Fresh off of their tour with Blue October, Northern National partnered with producer Dwight Baker (Missio) in Austin, TX. Together they crafted their second EP titled D.A.R.K. which released in June of 2018.
Their single Slow Down might be their most radio friendly song to date. It's been featured on New Noise & Alternative Generation and is climbing in streams daily. Opening with a chorus of "Woahs" and a foot stomping beat that's sure to get stuck in your head, you will be singing along before the first verse even starts. If there is a band to watch in 2018, Northern National is at the top of that list.