We look forward to you joining us for our upcoming House of Bodhi with Lola Wright experience on November 26. We're grateful for our regular supporters who underwrite our ticket prices making the cost of our experiences accessible. Along with your ticket purchase, we ask that you consider making an additional gift of support by texting GIVE to 773.770.8577 or visiting bodhicenter.org/giving . We appreciate your generosity!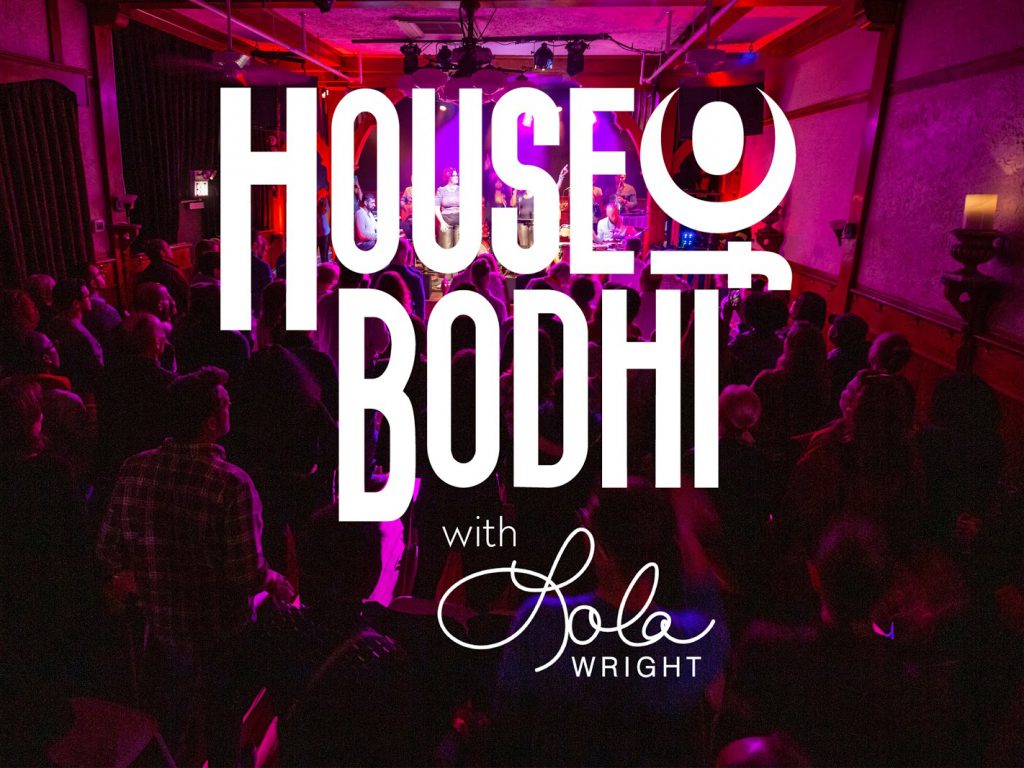 with Lola Wright
Please note, seating is first come first serve
Chicago's Bodhi Center is proud to share our brand new immersive experience,
"House of Bodhi with Lola Wright"
Each month, Lola curates a live gathering at an iconic Chicago music venue with the inspiring musicians of the Bodhi House Band and original work from Chicago's most moving cultural leaders. This monthly gathering provides an expansive experience for human beings who are committed to awakening their self-expression and deepening their connection to community.
Our November experience explores the power of our word, the magic of Chicago, and the importance of finding HOME where you are. November features special guest avery r. young, an award winning interdisciplinary artist and educator from the West Side of Chicago. young's work chronicles Black life, history, imagination, and culture through language, visuals, sound, and performance.
Join us on November 26 at Lincoln Hall as House of Bodhi with Lola Wright invites you into a new way of being that will move your body, provoke your mind and awaken your soul. We're looking forward to creating something beautiful together.
For more info, visit bodhicenter.org!
Lola Wright (Host) is a Chicago original, born and raised. As CEO of Bodhi Center and Executive Producer & Host of House of Bodhi with Lola Wright and the weekly podcast And This Is Bodhi, Lola engages change agents and explorers locally and around the world. Lola is a master excavator of fear. Her work disrupts the lie of separation, the addiction to woundedness and the violence of oppression. Lola's super powers include a willingness to reveal herself authentically and candidly demonstrating freedom, self-expression, and an infectious sense of humor. As a fierce and loving presence, Lola serves as a lightning rod for personal transformation and collective awakening.
Ameerah Tatum (Music Director) says she didn't choose her career as a performer, it chose her. She began her career at the age of 10 singing with her sisters in an acapella jazz quartet called The Tatum Sisters. She began playing the club scene at the early age of 15 and by age 18, she was auditioning and touring with National and International recording artists. As a background singer and dancer she toured with artists such as The Brand New Heavies, Sheena Easton, Paula Abdul, Janet Jackson, and Stevie Wonder, among others. She is the voice on countless radio and television commercials, and has also sang background vocals on the albums of an extensive list of recording artists, including Don Henley the lead singer for the Eagles, and Will Downing.
Her favorite things are being the mother of two boys, being an artist, yoga, food, the sun, warm wind, and less doing, more BEING.
avery r. young (Featured Guest) is an interdisciplinary artist and a 3Arts Award winning in teaching artist, composer and producer with work that spans the genres of music, performance, visual arts and literature. Examining and celebrating Black American history and culture, his work also focuses in the areas of social justice, equity, queer identity, misogyny, and body consciousness.
Dubbed "sunday mornin jook joint," his performance and work in sound design merges spiritual and secular aesthetics with dramatic and comedic sensibilities. He has performed at the Hip Hop Theater Festival, Wordstock, and Lollapalooza. He has recorded with house producers Anthony Nicholson and Charlie Dark, and is featured on recordings such as New World Reveal-A-Solution, Audio Truism, Catfish Haven's Devastator, and New Skool Poetiks. His new full-length release, booker t. soltreyne: a race rekkid, features songs and other sound designed created during his artist residency with the University of Chicago's Arts + Public Life initiative. It was during this residency that he worked on sound design and poems called "cullud sign(s)."
Through voice, sound, visual art, and performance, young is constantly exploring the forms and spaces in which poetry can exist. Young's first book neckbone (Northwestern University Press) was released in June 2019. He is currently one of four directors for the Floating Museum and touring with his band, avery r. young & de deacon board.
Bodhi Center (bodhicenter.org) is a conscious community for people who are ready to transform themselves and their world. Born in Chicago and expanding globally, Bodhi puts media, education, entertainment and like-minded community to work in support of transformation. We disrupt the unconscious patterns of fear that create scarcity, lack and limitation and invite those we encounter into greater joy, peace, freedom, and abundance.