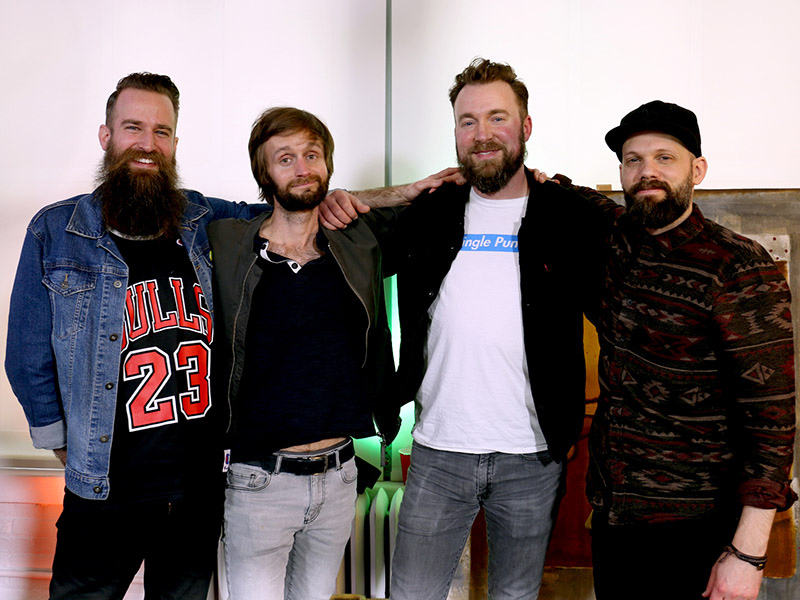 Things feel especially precarious in 2019 — global instability, melting ice caps, mountains of student and consumer debt and foreign interference in what are supposed to be free and fair elections. While these are facts, the incessantly-numbing scroll of increasingly-dour headlines make it hard to stay informed. On top of that, it's tougher to parse what's true in the over-saturated media landscape. No matter your politics, it's easy to ask: Is this the country we're supposed to be. Is the American dream getting out of reach? We're better than this, right? 
These questions are at the heart of the the excellent and clear-eyed third album Chicago's Fort Frances. Where the folk-rock project's first two efforts, 2011's The Atlas and 2016's breakthrough Alio, found bandleader and songwriter David McMillin looking inward and tackling his personal turmoil, this latest LP finds him looking outward and figuring out his and his family's place in the world. Though he sings, "If I had the answers, I'd tell you so" on the warm piano-led highlight "Stars in Silent Movies," throughout the album these songs find their power in McMillin's search for truth. 
Before Fort Frances had even thought to start work on this LP, they were flying higher than the band ever has. Their carefree cover of DJ Jazzy Jeff and The Fresh Prince's "Summertime" led to a surprise international breakthrough in 2015. The following year, they released their sophomore LP Alio, spent considerable time on the road, and had their best year as band. In 2016, McMillin also got married, his bandmates' lives were also comfortable, and the Chicago Cubs even won the World Series. But then, the U.S. election happened. McMillin's world turned upside down. He remembers thinking, "This doesn't seem likely country that I grew up in. What's the point in being in a band with all that's going on right now?" 
Following the biggest high of the band's career, the future of Fort Frances was in doubt and McMillin stopped writing songs. After months, there wasn't a eureka lightbulb moment or an album-cycle-convenient epiphany that made him return to music. Like any songwriter, he just got back to work. But for this album, he changed his approach. He says, "Songwriting is a selfish sport: you write a lot about yourself and what you're dealing with. Here, I realized there are things that are bigger than just me." Nothing showcases this more than opener "The Big One," which serves as a mission statement for the record.
Here, McMillin warns of the hopelessness that comes with getting inundated with dire news. "To make it through the day, if you find history don't throw it away / Let the past / Stand inside the light." McMillin says of the track, "It's one of the proudest moments I've ever had when finishing a song. None of it is about me. Along with the lyrics, the melody might be the best thing I've ever written." It makes sense when he sings, "Raise your hands, boys and girls / If you're worried about the end of the world." Those lines are a lucid calling card for the rest of the LP, a clear-hearted beacon to wade through the muck in 2019. 
Elsewhere, the self-realization and sheer disbelief of "All I Never Knew Was Wrong" takes hold over a danceable bass riff and McMillin's most infectious chorus yet. He sings, "How many times can he sing the same sad song? / How many lies will I believe before I finally see / All I ever knew was wrong." As McMillin explains, everyone has a moment where they're looking at the world and thinking, 'Oh my god why did I believe this.'" For Fort Frances, not knowing is part of the journey and the only way to take a step in the right direction is to acknowledge that. The same goes for the swinging "Fantasy of Youth," where nostalgia fails to win out. He sings, "I don't need the truth / I want to believe in the fantasy of youth." 
Part of what makes that song so resonant is the Sturgill Simpson and Allen Toussaint-inspired horn section that, courtesy of John Dorhauer and the Heisenberg Uncertainty Players, features prominently throughout the entire album. Besides being the best showcase of McMillin's songwriting, this album's sound is the band's — Aaron Kiser on drums, Jeff Piper on bass, and the newly-welcomed Jason Ryan tackling guitar and piano duties — most unassailable yet. It's undeniable on barn-burning lead single "Double Take," where the Stax-influenced groove takes hold. Later on, a timeless track called "Desert Hotel" boasts a lap steel and feels like a lost artifact from the heyday of Laurel Canyon. 
This is an album of bookends and the final track shows how an overwhelming existence can find a hopeful note. "A New Kind of Universe" has McMillin providing the blueprint for just that, singing, "I do believe / that all these roads can turn to gold / when the wheels slow down and your feet get cold / forget everything that you've ever been told / about the way the world should unfold for you." Things are undeniably tough, but this song shows that any semblance of solidarity is crucial to powering through. From the near-decade of Fort Frances' existence as a band, McMillin's lyrics come as a welcome reminder that things might be ok. 
Josh Terry, 2/10/19, Chicago, IL