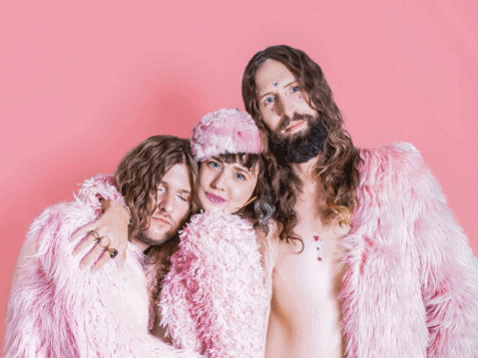 GGOOLLDD
by Lizzy Goodman, Winter 2016
The day after GGOOLLDD frontwoman Margaret Butler graduated from art school in Baton Rouge she packed a Uhaul and headed west. "I was like, yeah, I'm not going to live here anymore," she recalls, laughing. Her first stop was Portland, Oregon, where she subsisted mostly on "ramen noodles and pumpkins people stole for me from Home Depot," she remembers. "You sauté them down and add lots of black pepper and curry powder and soy sauce. It's actually pretty good!"
Butler was riding high on that particular sense of freedom that comes when you've decided your life plan is to just say yes to pretty much everything. So you don't really care that you're broke and subsisting on stolen jack-o-lanterns, because you're not in your suburban high school anymore, hiding your disdain for the cheerleaders. You're in a weird and cool new town, hanging out with musicians and designers and artists. You're free to mess around. Explore. And just when you're starting to get a little over living "four people deep," as Butler puts it, in your tiny apartment, another friend says, hey, come out to Wisconsin for a while. So you do. (Because: say yes!) And a while later, when, boozy in a bar one night, you hear some beats you think you'd like to write lyrics to, even though you've never so much as held a microphone in your life, you go for it. (Say. Yes.) And the next thing you know, you're fronting a dynamic, dirty, synth-pop carnival of a band, hearing your single on the radio, and touring the country.
That's Margaret Butler's story. And that's the story of her band, a group as inspired by the shimmery decadence of Queen as they are by the primal yowl of Black Sabbath as they are by the madcap joy of Yeah Yeah Yeahs. GGOOLLDD is one of the most resolutely celebratory rock acts to emerge in years.
It's not hard to understand how someone like Butler, a woman with seemingly limitless natural charisma and an obsession with dressing up in outrageous costumes (Halloween is her favorite holiday) would eventually find her way onstage, but the singer insists that rock stardom was never part of her plan. "I never even considered being a musician, I always wanted to be a clothing designer, or a chef," she says. "I've always created with my hands." Butler's father is jeweler, and technically that's what she was studying to be as well. But she learned all her really important college-years lessons bartending at the Spanish Moon, a legendary venue in Baton Rouge. "It was the only cool place to go and watch music in the city," she says. "I got to see every amazing band as they were coming up, from TV On the Radio to Of Montreal to Dirty Projectors."
Even though Butler's always loved music (she's an obsessive of the first order) aside from the one time she "got really stoned and watched a John Bonham documentary then went right out and bought a pair of blue 1970s Ludwigs," she never tried to become a serious musician. "I have great internal rhythm, I'm just too A.D.D. to sit down and actually play," she says. "I own eight different instruments and I've gotten as far as like a week on each of them." But her culture, her people, her tribe has always been connected to music. The people she met in and around the Spanish Moon were the ones she moved to Portland with, and it was through that world that she wound up, one random early fall afternoon in 2013, recording vocals, in the foyer of her house in Milwaukee, to what would become GGOOLLDD's breakthrough debut single. "It was the first song we ever wrote and it was called 'Gold,'" she recalls of the soulfully grimy track, on which bassist Nick Ziemann, guitarist Thomas Gilbert also played. (They added drummer Mark Stewart and synth player Nick Schubert soon after). "We were like, 'Oh we need a name for the band – I guess it should be the same thing as the song title." A quick Google search revealed "eight other bands named Gold," but they were all basically unsearchable because the word is so widely used, "so we just decided to double letter it."
Thinking nothing of it, they threw the song up on Bandcamp, planning to go back to their day jobs, but that's when the serendipity hurricane began. "Somehow college radio picks it up," Butler recalls. "And it starts getting really good responses. And then it's on their list of top-ten-plays list, which is just insane." So they figured, why not keep this going for a while? "We were like, this is fun! Let's write like three more songs, do a cover, and throw a party for Halloween where we can all wear gold costumes!" The Halloween party is now the stuff of GGOOLLDD legend. "I was Santigold, but instead of dressing up like the singer, I made an all gold Santa costume," Butler recalls, laughing. "We played a terrible show to eight-some people crammed into our attic and it was one of the funnest nights ever! After that, people just kept asking us to play."
Butler, who had by this time opened a vintage clothing business with her friends, initially thought of the band mostly as a good excuse to express her most playful sartorial impulses. "We had our next show two weeks later so I made this weird tassled vinyl gold overlay on top of a crushed velvet gold romper," she remembers, but it wasn't long before they all realized this band had become more than an excuse to dress up. After that second show, CMJ picked up "Gold," from the local Milwaukee radio station, 91.7, and from there, other college radio stations around the country began playing the track as well. The same un-mixed, un-mastered version they had made on Garage Band. "After about a year I was like, people like this a lot better and they want to pay me a lot more than they do for vintage clothing, so I think I'm just going to do this instead," Butler recalls. "It's been three years and we have ten songs that are out right now, and we're working on the next album."
GGOOLLDD isn't like other bands. They formed on whim, decided to play their first show mostly as an excuse to host a killer party, and they eschew the traditional gotta-get-a-record-deal game in favor of playing a lot of shows and releasing their own material. That sense of whimsy blended with resolute autonomy is all part of the signature GGOOLLDD aesthetic. And it feeds into their sound, especially lately. "Secrets," their new single, is a soaring banger that conjures wind-in-your-hair glittery romanticism. Co-produced and mixed by Ben H. Allen (MIA, Animal Collective) it reflects that core tension in GGOOLLDD between winging it and great artistry. "I'm not going to lie, I'm great at writing a hook," Butler says, and is quick to point out that her bandmates are "amazing," musicians. "But if you ask me what I do, I'm going to tell you that I'm a performer before I tell you that I'm a musician." She pauses and cracks up. "Unless you don't know me at all," she continues. "Then I'm going to say I'm a musician, because if I say I'm a performer, you're going to automatically think that I'm a stripper, which is totally ok too but not my current profession."
Seasaw
Meg Golz and Eve Wilczewski started as co-workers, slowly courted each other into best friendship, and then magically into music-making conspirators – all along, guiding the ship that is their indie-pop duo Seasaw. Without every piece of this musical history together, it would have been impossible for them to create their upcoming release, Big Dogs.
Harnessing their team dynamic, the creation of this album demanded Seasaw be brutally honest and experimental with each other. This process allowed them to create Big Dogs, a wildly imaginative departure from their previous work that features lush soundscapes and powerful lyrical choices.
The album's title Big Dogs is taken from the ridiculous and self-assigned name that some people in power give themselves, and the duo's message is a sonically beautiful rejection of this outdated term, as well as a response the the world around them.
Seasaw has performed alongside Lucius, Shakey Graves, Thao & the Get Down Stay Down, Har Mar Superstar, and many others. Big Dogs is out now on CD, LP and digitally.
Waltzer
Sophie Sputnik is WALTZER, a southern swamp to midwest city new kid. She's is in the studio (Treehouse Records) finishing up new music to be released early 2020 with a fresh dreamy sound she's always wanted. Waltzer is music you can dance/cry to, and it's a nice challenge when you can swing both at the same time- now that's how you make friends these days. Little bit vulnerability and smooth moves can get ya real far, guy.